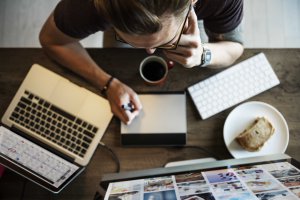 Running your own business presents some great opportunities, but sadly, also some risks. Protecting your business should be high on the list of priorities, and insurance is a must have, no matter what industry you are operating in. Insurance covers you when you have made a mistake, but it it's worth bearing in mind that just a client can sue even if you haven't. This helps protect you, and can cover costs to hire a lawyer and defend yourself or your business
Choosing the most appropriate insurance policies to meet your business needs can be an arduous and confusing task. In this post, we provide a rundown of different insurance types, who they are suitable for, and what they cover.
General liability insurance (AKA commercial general liability insurance)
General liability insurance is important, because accidents can, and do, happen. It covers claims made against your business if a person is injured, or their property is damaged.
This type of insurance is necessary if you have a business where you come into contact with clients or provide services to them at their property. Even if you are a home-based freelancer, if clients are coming to meet you there, you need general liability insurance in case the party is injured or has their property damaged (or alleges that they have) while visiting your premises.
Any business that provides products or services to a third party at their location also needs general liability insurance. This provides reassurance that you are covered if you, or your employees, do something that results in injury or damage caused to anybody at that location.
Examples of when general liability insurance can save the day:
You run a cleaning business and answer the phone to a distressed employee who has knocked over a huge bottle of cleaning fluid in a client's home, which spilled all over their very expensive shag pile rug, ruining it.
You work as a gardener and have been asked to mow a very unruly lawn by the new homeowner. They can't wait to sit out on the porch, looking out at their well kept front lawn, but while mowing the long grass, you hit a rock, which flies up and smashes their front window.
You are a freelance graphic designer who invites a client to your home office to review some new logos you've designed for them. On the way into your home office, the client trips on some uneven flooring, resulting in them dropping their laptop which wipes data from their hard drive, and breaks their ankle in one fell swoop.
After a heated email exchange with a client you provide management consultancy to, you take to social media to vent your frustration. The things you say about the client are defamatory, unkind, and untrue. Your post is sent on to the client, who then sues for slander.
So as you can see, this type of coverage protects you in case you are sued because of accidents, bodily and personal injuries, or claims of negligence in all types of situations. If someone does decide to file a lawsuit against you, whether you have done anything wrong or not, this type of coverage is there to cover the related costs.
Errors and omissions insurance (AKA professional liability insurance)
Errors and omissions (E&O) insurance, also referred to as professional liability insurance, protects your business against negligence claims that occur as a result of mistakes or disputes around performance.
This type of insurance is important for any business that offers professional services and will be tailored to each profession, as the risks will vary wildly between an architect and an IT consultant, for example.
Because this type of insurance provides defense and damages, should a client decide to make a claim against you as a result of the professional services you have delivered, you are protected even if you've done nothing wrong.
To better understand errors and omissions insurance, consider these examples of when you would be in trouble without it:
You are an architect who has drawn up plans for a knockout pool house for a client. The construction is underway when you get a call from the homeowner who is upset that a fence has been removed in order to lay the foundations. Was this an error on your part by not being clear enough in the plans, or an omission by not being more explicit about the fence needing to remain? Or maybe, it was neither, and the fence needn't have been removed at all?
As an advertising executive, a client asks you to come up with a campaign that will really turn heads. You present a few examples, but they want to go with something wild. You go back to the drawing board and present the client with a rather risque campaign, which despite your reservations, they love. "Go for it", they say. So you do. And a week after launch, the client has a PR disaster on their hands, and lays the blame at your door.
As an interior designer, you're coming to the end of a project to refit an upmarket eatery. With six weeks until your client's restaurant opens, you assume that you've got plenty of time to place an order for the tables and chairs. You've never had an issue with this supplier before, after all. Until now. Despite your best efforts to get the furniture delivered on time, or find a suitable alternative, you fail. The restaurant doesn't open on its official launch date, leaving you in hot water with the client.
There are so many scenarios when errors and omissions insurance can protect your business, whether it's you or someone else that's dropped the ball.
Director's and officer's insurance
There are two types of director's and officer's insurance – one that covers for profit, for example privately held companies, and another that covers non-profits, including charities and associations.
Both types of insurance protect the directors and officers of an organization against their actions that affect the way in which it is run, such as responsibility for managing finances, as well as ensuring the organization itself is run fairly and morally.
This type of insurance is important as if someone does not like the way in which your organization is run and decides to take legal action, as a board member, you may be liable. D&O insurance can cover costs or damages lost as a result of a lawsuit.
Small businesses and non-profit organizations may struggle to cover legal costs. These examples demonstrate why it's better to be safe than sorry!
A fundraising event for a charity that you are on the board of is hosted at a local casino – and is a roaring success. But soon after the event, a complaint is made about how much the event cost to put on, and how donations have been spent comes into question.
An employee experiences a near miss at work when a pallet of glass tips over, missing him narrowly. He reports this to the board, but no further action is taken. When a safety consultant inspects the building a few weeks later, he finds that several pieces of equipment are unsafe, that key legislations are not being followed, and training documents are missing.
Umbrella insurance
If you are concerned that you may not have enough cover, umbrella insurance acts as extra liability insurance. This type of insurance protects you when a claim is made which exceeds the current limits on your primary insurance – without it, the claim would have to be paid out of your own pocket.
---
Still not sure what kind of insurance you need?
General liability insurance vs errors and omissions insurance
General liability insurance is crucial for any business that comes into contact with clients in any capacity when delivering products or services.
Errors and omissions insurance is typically more relevant to businesses that are service and consultancy led, but can be applicable to other business types too, for example, if you are a decorator and a client disputes that the shade of paint you've just painted their whole office with is not as originally specified, E&O can help you out.
Professional liability insurance vs directors and officers insurance
Professional liability is another name for errors and omissions insurance, and will cover mistakes made by yourself or your employees. Director's and officer's insurance on the other hand, will only provide cover for people on the board of the organization.
Liability insurance vs umbrella insurance
This isn't really a one vs the other scenario here, and umbrella insurance is in addition to an existing primary liability insurance policy, giving you extra peace of mind. Essentially, you cannot purchase umbrella insurance as a policy on its own.
As a general rule, there is no one-size-fits-all when it comes to business insurance. Be sure to thoroughly research your home state's laws around what type of insurance your business needs. If you still need help, get in touch with one of the experts at InsuranceBee today!