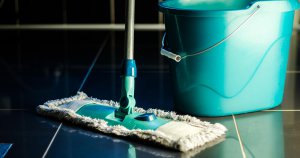 Slips, trips, spills, and drips. Words that strike fear into the hearts of cleaning business owners.
A client slips on a freshly mopped marble floor, falling hard, they break their arm.
An employee at the offices you clean trips over the cord of your vacuum while carrying a piping hot coffee, resulting in a huge mess, and a pretty nasty scald.
While cleaning an oven, you spill the chemical all over the wooden work surface, causing serious and irreparable damage to the finish.
It was only a tiny drip, but there is no way of getting that bleach spot out of the client's expensive bathrobe.
If you work in the cleaning and janitorial industry, you'll know that accidents like this can happen in an instant, resulting in damage to property, and injury to people. In all of the examples outlined above, it's likely your business would be held accountable, and depending on the severity of the incident, your business could find itself on the receiving end of a very expensive claim. If the worst were to happen, could your business take the financial hit?
There are over 2.16m janitors and commercial cleaners in the US (2016) and a further 924,756 maids and housekeepers. That's a lot of people, and a lot of people who might make a costly mistake. With salaries in the industry coming in at an average of $24,756 per annum, it is even more important to have insurance in place to protect income – particularly if you are the sole employee.
Claims can vary from something small, like replacing a broken plate; to something huge, like when someone has been seriously injured as a result of negligence by you or one of your employees. Because it's so difficult to predict if and when a mistake will be made, it's best to err on the side of caution by protecting your business with general liability insurance.
Even the most careful employees are not immune to errors. And it may not just be those slips, trips, spills, and drips that result in a claim: breakages, and damage caused by faulty equipment can all be reasons that your business may be sued.
How does general liability insurance protect my cleaning business?
Cleaning and janitorial general liability insurance can help protect your business by paying for expert legal defense in the unfortunate event that something does go wrong. General liability claims can be very costly, so it's crucial to have a policy in place, no matter how big or small your business is.
In addition, proof that a business holds general liability insurance is often requested by clients in order to ensure that if the worst should happen when you have been contracted by them to clean their premises, they know that you, and by extension, they, are covered in most circumstances in the result of a claim being made.
Being able to show that your business has general liability cover also makes you appear more professional to prospective clients, while at the same time giving them peace of mind if you (or they) slip up.