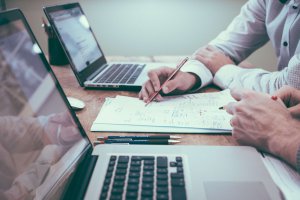 Running a small business can prove to be an extremely rewarding venture, but success will not happen overnight nor without challenges along the way. Many ambitious entrepreneurs may believe they are able to start a business and start making money as soon as they open their doors, but this is rarely the case.
A successful business is built on a foundation of pre-planning and organization so ensure you spend time outlining all of the necessary steps you need to achieve success with your small business. While this is likely to become a never ending task list, here are 5 areas to consider to get you started off on the right foot.
1) Obtain business funding
U.S. lending standards are becoming increasingly strict, and because every business has different needs, the process of finding the right lender and type of loan for your business can become a confusing and time consuming task. There are typically three main funding options available for small businesses:
Government funding programs

–  If you are unable to qualify for a traditional bank loan or you require additional financial support, there are programs on offer which may be able to provide you with a government guaranteed loan.
Bank loan – Some banks such as J.P. Morgan Chase and Bank of America provide loans specifically designed for small businesses.
Alternative funding –

If you don't have the best financial record, an alternative lender may be the most suitable option for raising business capital as their lending policies are usually slightly more flexible. However, the interest rates can be significantly higher than those charged by a bank
2) Improve your customer service skills
Providing customers with excellent service is essential for the growth and success of any business. Take the time to get to know your customers and identify the ways that you can meet their needs so that you are able to clearly communicate your services in a relatable manner and build a trusting relationship.
Be open and honest at all times as well as actively encouraging your customers to feedback their opinion or criticism about your services.
3) Market your business
Small business success massively depends on marketing. Marketing is the process of introducing and promoting your business offering to potential customers through advertising, public relations, promotions, and special offers.
In today's competitive environment, marketing investment serves as a powerful tool that will help your business to stand out in the crowd. You may well offer the best products or services in your industry, but without marketing, none of your potential customers will know about it. If time and resource is limited, it can be difficult to hit the ground running with your small business marketing, but the following activities will certainly help;
Set up social media profiles and grow your presence through posts that will capture and engage the attention of your audience

Attend local and industry relevant networking events armed with branded leaflets and business cards

Pay for advertorial content with local and industry relevant media

Network with local news outlets

Create a website and blog and update it regularly with your business information and news
4) Build business partnerships
Owning and running a small business can sometimes feel lonely or stressful but it's important not to let these feelings hold you back from being successful. Through forming strategic partnerships with other like-minded business owners and individuals, you will build up a reliable network of support.
The simplest way to start establishing partnerships is through attending a networking events, local business groups, or charity fundraisers – or better still – why not host your own event and invite others to attend?
5) Insure your business
Setting up and running your own business is often risky – but it's important to understand which risks you should take, which risks to avoid, and which risks you can protect yourself against. You've put a lot of time, money, and effort into establishing your business, don't risk sabotaging all of this hard work because you haven't got adequate insurance cover in place.

Whatever industry your small business is operating in, insuring yourself and your company is essential as this will cover your back not only if you do make a mistake, but also if a customer tries to sue you when you haven't. Small business insurance is designed to protect you, as well as cover any legal fees so that you are able to defend yourself or your business in court should you need to do so.
Disclaimer: Before embarking on any business venture, InsuranceBee recommends consulting an expert.