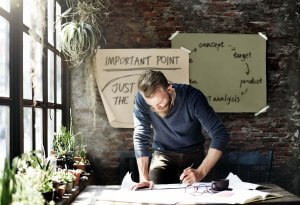 At InsuranceBee, we provide insurance to a number of businesses just starting out.
So, now we're beginning a new year, we thought some expert advice on how to kickstart your start-up might be timely.
We've been chatting to some of the guys at SCORE who offer free business mentoring and education.
Here's what we found out:
"One key to the success in the development of any venture, is preparing a Business Plan (BP)", said Michael Sarka, a SCORE Counselor with years of experience in developing business plans.
"This is a most important planning tool and worth the effort to develop", he went on. And shared some really useful resources to help you prepare yours:
Business Plan Overview – SBA
https://www.sba.gov/tools/business-plan/1
Master Your Business Plan
http://www.score.org/resources/expertanswers/master-your-business-plan
Developing a Business Plan
https://www.score.org/workshops/developing-business-plan
Deciding on your business structure is also key. There are several structures available. Check out the following links to help you decide which one's right for your company:
Business Ownership Options
http://www.nolo.com/legal-encyclopedia/learn-about-business-ownership-structures-29785.html
Choose Your Business Structure
https://www.sba.gov/business-guide/launch/choose-business-structure-types-chart
Sole Proprietorship Basics
Sole proprietorship is the simplest, legal structure for owning your own business.
http://www.nolo.com/legal-encyclopedia/sole-proprietorship-basics-29694.html
How to Form an LLC
Here's what you need to do to create a limited liability company.
http://www.nolo.com/legal-encyclopedia/form-llc-how-to-organize-llc-30287.html
How to Form a Corporation
To form your own corporation, you must take these essential steps.
http://www.nolo.com/legal-encyclopedia/form-corporation-how-to-incorporate-30030.html
Corporations and S Corporations vs. LLCs
How do you know whether incorporating or forming an LLC is right for your business?
http://www.nolo.com/legal-encyclopedia/corporations-vs-llcs-29025.html
You'll also need to think about what value your product, or service, offers. Why should someone choose you over the competition?
Marvin Brook, a SCORE Counselor who teaches seminars on writing effective business plans, gave the following advice:
"One thing I always say to someone starting a small business is this: ask yourself why a potential customer would choose your product/service instead of the competitions. Too many people see their product/service only through their own lens and fail to have empathy with their customers. It's a tough, competitive world and if your clients can't really see a value-added reason for choosing your product, you should revisit your idea."
He also emphasized the importance of having a robust financial strategy in place within the business plan:
"Without getting into the details about what a business plan should contain etc., the best tip I can give someone is to understand the financials of your business idea. This is especially difficult for a new venture because of the lack of data to support the cash flows, balance sheets and income statements you need to create.
A key to good cash flows is making a realistic sales projection and pricing correctly.
"To properly price", Marvin added, "there must be an understanding of fixed and variable costs, along with a clear idea of how much income/profit the business needs to make.
At the end of the day, the new business venture needs to be able to provide an excellent product/service that meets customers' needs, that's priced competitively, but that ultimately provides the business with sufficient cash flow/income to continue to operate.
There are many more complexities you can add to this simple proposition, but no matter how elaborate a business plan you draw up, make sure you meet this simple, business requirement".
SCORE is a non-profit organization with a huge network of mentors available to help small business owners. It also provides workshops and resources for budding across all industries.