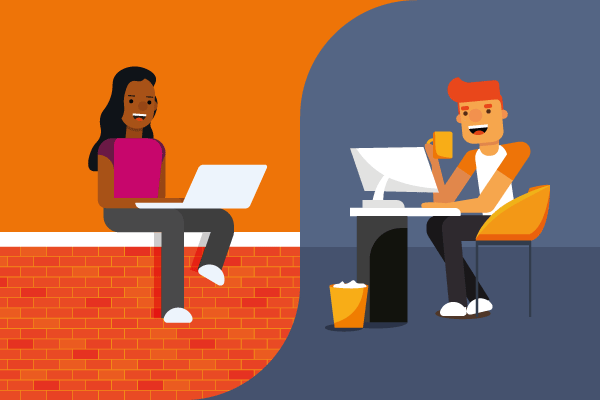 There's one big difference between a business owner's policy (BOP) and general liability insurance.

A business owner's policy isn't actually a single policy. It's a bundle of policies designed for small business owners.

And general liability insurance is just one of the coverages included in the bundle.
What's included in a business owner's policy (BOP)?
The beauty of a BOP is you get the basic insurance policies most business owners need as standard. Plus the option to customize it with add-ons. So you only pay for what you need, nothing you don't.
Our standard BOP includes:
General liability insurance – the policy that protects your business from the cost of claims of physical damage to property and people.
Property and business equipment insurance – for owned/rented properties, this policy can pay for damage to your building and your business equipment and furniture. It also covers your tools and devices like laptops and mobiles away from your office.
Then you can choose from the following add-ons:
Business equipment upgrade – Up to $25,000 of coverage for business equipment you take out of the office.
Electronic data loss – can replace or restore electronic data lost if your computer system's damaged by a fire, virus or malware. And lost income if you can't do business as a result.
Equipment breakdown – this policy can cover the cost of repairs or replacement of your equipment if it stops working.
Crime liability – protects you from the cost of employee dishonesty. Including theft of client property, money transfer fraud and forgery.
Do I need general liability insurance or a business owner's policy?

Most business owners need general liability insurance. That's because it covers you from the cost of claims you're most likely to face.

You need general liability insurance if:
Your business gets regular foot traffic – say you own a store and a customer slips and falls. A general liability policy can take care of their medical bills. And if they decide to sue you, it'll help pay your legal costs too.
You visit with clients — what if you accidentally damage a client's property when you're out on site? General liability insurance can pay for repairs or replacement and it can cover your legal fees and compensation, too.
You rent premises – if you need to rent or lease space for your business, your landlord may require you to have general liability insurance. It's to be sure they're not liable for any accidents that happen on the premises.
If you need property and equipment cover as well as GL insurance, buy a BOP
But even if your business doesn't have much in the way of property, you'll still want to protect it.
Instead of taking out two separate policies, you can buy a business owner's policy. It gives you all the protection of general liability insurance, but it also protects your property, your equipment and your business.
Plus, you get the option to add extra coverage for things like equipment breakdown, data loss or wire transfer fraud, if you need it.
A business owner's policy saves you time and money
Because it acts as one policy, not several, a business owner's policy is easier to manage. What's more, a BOP typically costs less than buying the policies separately, too. So you get much more protection for less money.
Not sure a BOP is what you need? You can find out more on our website. Or call us and we'll talk it through.