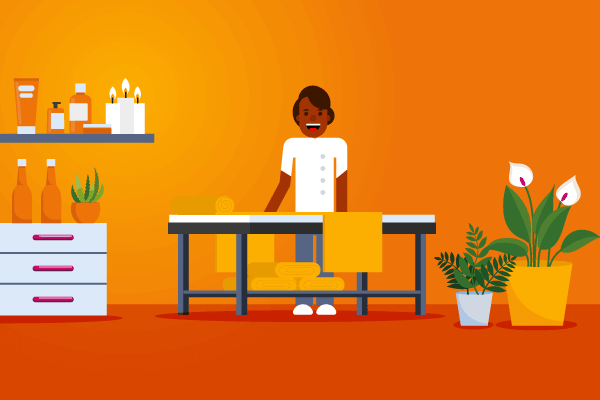 Massage therapists need liability insurance for several reasons:
You're not legal experts
You don't have bottomless bank accounts
You have better things to do with your time than fighting a lawsuit. Like running your business.
And unfortunately, in your line of work, there's always the risk of a legal claim.

First, because you charge for your service, you can be sued for negligence. Even if you did nothing wrong.
Secondly, you're 'hands-on' with your clients. This means sexual misconduct lawsuits are a potential hazard.

And third, careful you are, accidents happen. Damage someone's property, or cause them injury, and you could find yourself facing a claim for compensation.

Without liability insurance, you'll have to deal with claims like these yourself.

Unless you have legal training, you'll need a lawyer to defend you. Then you'll have fees to pay. And compensation, too, if the case doesn't go your way.

But lawsuits don't just cost you money, they take up valuable time. They also cause stress. So why not think of your own health and wellbeing for once?

If you find yourself facing a claim, liability insurance can hire you a defense attorney and pay your legal fees. It can also cover damages, too, if they're due.

Massage therapy insurance. Think of it like a deep-tissue massage. A stress-buster that protects your bank balance, your time and, therefore, your business.
Massage therapy liability insurance

Now, liability insurance isn't a 'one size fits all'. There are different kinds of liability policies. Each one is designed to cover a specific set of risks your business faces.

You knew that, right? (If you didn't, you might find this blog post useful.)

As a massage therapist, you'll need two different types of liability insurance:

• General liability insurance (to cover accidental injury and property damage)
• Professional liability insurance (to cover mistakes and client complaints).
General liability insurance

For massage therapists, general liability insurance is essential. Whether you treat clients in your home, theirs, or at a health club or wellness center.

It covers:
Claims you caused accidental damage to someone or their property. (That includes fire damage at premises you rent)
The cost of medical treatment, legal defense fees, and compensation (regardless of fault)
Claims made worldwide as long as they're lodged in the US or a US territory.

You'll also get up to $250 a day to help with your expenses and lost earnings while a claim's being settled.

Here are some examples of when your general liability policy would come into play:
General liability claims scenarios

Bodily injury — As he gets up from your massage table, a client leans on the headrest. The headrest snaps off and he hurts his arm trying to steady himself. He needs hospital treatment and time off work to recover.

In this scenario, general liability insurance could take care of your client's medical bills and lost wages. If the case went to court, it could pay for your legal defense. And if you're found liable, it could also cover your client's legal fees and their compensation payment.

Personal injury – You're out to lunch with a friend and mention one of your clients (a particularly tricky one). It gets back to your client and she files a suit against you, claiming you portrayed her in an unflattering light.

In this situation, your policy could hire you an attorney, pay legal fees, court costs, and compensation, if necessary.

Property damage – During a client's in-home massage you accidentally knock over a computer monitor, breaking it. The PC was expensive and your client expects you to buy her a new one.

Your general liability insurance could pay to fix the damage. Or replace the PC if it's beyond repair.
Professional liability insurance

What general liability insurance doesn't cover, are claims resulting from your massage therapy. That's what a professional liability policy is for. A legal requirement for licensed massage therapists in some states, it's a must-have anyway. Why?

Because, as you charge for your service, clients can sue you if they think you made a mistake or did something wrong. Even if the suit has no grounds.

Regardless of fault, professional liability insurance covers you for claims of:
Bodily injury caused by your massage
Negligence – making a mistake, giving the wrong advice, or not delivering what you promised
Libel or slander
Sexual misconduct and abuse.

As well as an attorney to defend you and your legal fees paid, your policy can cover compensation, too, if you're at fault.

But your coverage doesn't just stop there.

A professional liability policy also covers:
Accidental loss of client data
Up to $25,000 towards an HIPAA fine
Up to $5,000 should you find yourself facing disciplinary action.

What's more, if you've had continuous cover previously, you can make your policy retroactive. That way you'll be covered for claims made by clients you've treated in the past, too.

Here are some examples of when your professional liability policy would kick in:
Professional liability claims scenarios

Bodily injury caused by your treatment – You perform a deep tissue massage on a client complaining of shoulder pain before treatment. During a shoulder stretch on the massage chair, he winces and asks you to stop. You do so, immediately.

The next day, your client accuses you of causing a torn ligament in his shoulder. He needs surgery, he says, and is suing you to recoup the cost.

In this situation, your professional liability policy could take care of the costs of such a claim. If the case goes to court, it'll hire you an attorney and pay your legal fees. And if it turns out compensation is due, it could cover that too.

Sexual misconduct and abuse – A new client comes to you for osteoarthritis treatment. You get consent, apply proper draping techniques and observe professional boundaries. But after a Swedish massage, she files a complaint saying you touched her inappropriately. It's caused her emotional distress and she's been forced to take time off work.

In this instance, your policy could pay for an attorney to defend you, as well as legal fees and damages if they're due.

Loss of personal information – You misplace a file containing a client's medical history and financial details. The file falls into the wrong hands and your client's identity is stolen along with a large sum of money.

Professional liability insurance can protect you from the cost if you get sued as a result.
More massage therapy insurance

As well as liability insurance, there are a couple of other policies massage therapists need. It depends on the way you operate.

Workers' compensation insurance
If you employ anyone (even if it's only one person) you need workers' compensation insurance. Most states require it. It's worth checking your state's rules as fines can be steep.

Business personal property insurance

If you carry your massage equipment around with you between appointments, you'll want business personal property insurance. It covers your kit for loss, damage or theft. It also covers anything moveable you store at home. Everything from your massage table cart and hot stone heaters to your cushions and couch.
Massage therapist insurance cost

Insurance costs vary from business to business. The price of your insurance package will depend on the size of your business and its location. It'll also be affected by the limits you choose.

But to give you an idea, our professional liability insurance starts at $16.50 a month. Our general liability policies cost from $25.99.

To find out more about massage therapist insurance, head to our website. Or call us at 978.344.4215 and we'll talk you through your options.

If you're ready to get a quote, you can get one online now. There's no-obligation and it'll only take a minute or two.
general liability insurance
professional liability insurance