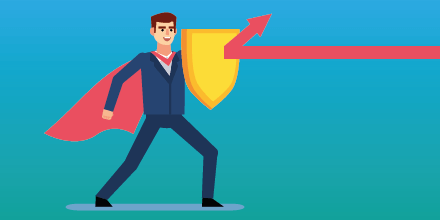 Protecting your small business — whether you run it from home, an office, or a warehouse — should be high-priority.
Let's say thieves broke into your office and stole a couple of PCs? Sure, the computer equipment is easily replaced. But what about the data stored on it?
Client billing information, legal documents, passwords…if they get into the wrong hands, you could be in a lot of trouble. Replacing the stolen computers would be the least of your worries.
So how best to protect your small business? When it comes to improving your firm's security, you need a strategy that covers all the bases.
Protecting your small business
To help you we've created a cheat sheet. It's the sixth in our series, taken from our Big Guide to Small Business Risk.
In it, you'll find pointers on how to make protect your business from the fall-out of a cyber-attack, plus tips on:
Another cheat sheet will be coming soon. This one is on how to get your business back on its feet when things go wrong.
You can download other cheat sheets in our series from our blog.
Guide to small business risk
And you might like a read of our all-you-need-to-know risk guide. There's a whole chapter on how to protect your small business, including some useful insight from industry insiders.
Click on the image to download.