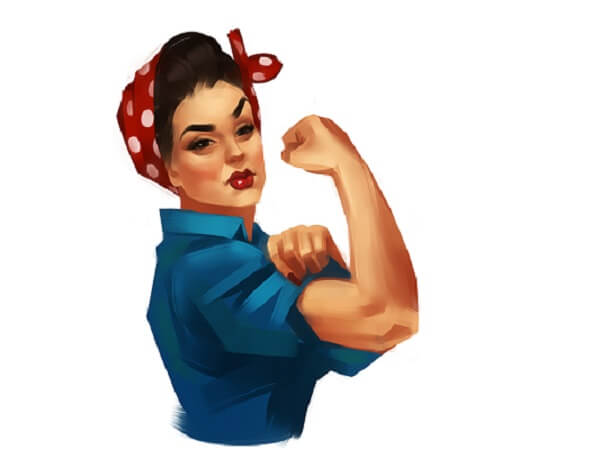 Remember that 1980s feminist anthem – 'Sisters are doin' it for themselves'?
Inspired by the suffragette movement, it was written by Annie Lennox and recorded as a duet with the late, great Aretha Franklin.
Recently, we've been humming it a lot here at InsuranceBee.
Why? Well, to celebrate Women's Entrepreneurship Day, we ran a survey of female business owners. We wanted to know what made them start up their own business, how they funded it and who inspired them.
And you know what? It turns out women really are doing it for themselves.
A whopping 85% self-funded their start-ups and a quarter (25%) said they'd needed no-one to motivate them – except themselves.
Me, myself, I
'Myself' came the chorus of answers to the question 'who, or what' inspired you?'
'I knew the only way I was going to advance in my life was to jump in with both feet and give all I've got', one woman entrepreneur explained. So, she did.
Aside from themselves, many others were inspired by other women. 'My mother inspired me', another female business owner answered. 'Watching her go to work and not get paid what she was worth was enough inspiration'.
Mothers, daughters and their daughters too
As well as their mothers and grandmothers, daughters played their part, too. One woman started her firm to be a good role model for her daughters. Another cited her daughter as inspiration for a different reason:
'She was being raised by other people while my husband and I worked 60 hours a week'.
Let's hear it for the boy
But grandfathers, uncles, fathers, sons and husbands also inspired women to follow their dreams.
The sight of her father's 'raw painful hands' inspired one woman to jump from her 9-5. For another, her father and husband were so supportive, she named her company after them.
But for some, it was not their husband's support that motivated them. Quite the opposite, in fact. One woman set up her own business because her husband left her and she needed immediate funds.
Another was prompted to start up her firm in spite of her husband:
'My ex-husband wouldn't "allow" me to get a regular job, and I had bills to pay. So, I started my cleaning business, and when I divorced him I took it a step further to support myself and my children.'
In all, nearly half (45%) of the women we surveyed said family and/or friends inspired them to go it alone.
9 to 5, it's no way to make a livin'
As for why they started up their own business, 14% said it was always their dream. For others, it came naturally. With parents and grandparents all owning their own firms, entrepreneurism runs in their blood.
But the single biggest reason given was to be their own boss (26%).
Several said they'd experienced 'bad bosses', or worked 'for a company that wasn't true to its word'.
'The fastest way for me to move into a position I wanted in a business', one figured, 'was to own the business'.
Being your own boss means financial freedom. You're no longer working 9 to 5 to line someone else's pocket.
And making more money, of course, was a big motivator (20%).
Other reasons were:
– Flexible working hours (23%)
– Wanting a new challenge (10%)
– Redundancy/health (2%)
I did it my way
Getting funding can be tricky for female business owners. Despite the fact that women own 38% of all businesses in the United States, they receive only 2% of all venture financing. And even if they are able to raise funds, it's usually in smaller amounts than men.
So, we weren't surprised to find only 3 of our female entrepreneurs (1%) got outside investment to start up. 7% got bank or SBA loans, 6% borrowed from family or friends and 1% used their inheritance or redundancy pay-out.
The rest? 85% self-funded their start-up.
That's self-belief. That's sheer determination. That's sisters doin' it for themselves.
If you're thinking about following in the footsteps of these fearsome females, we've got top tips and lots of insight to come in the next few days.
Just watch this space.
Image used under license from Shutterstock.