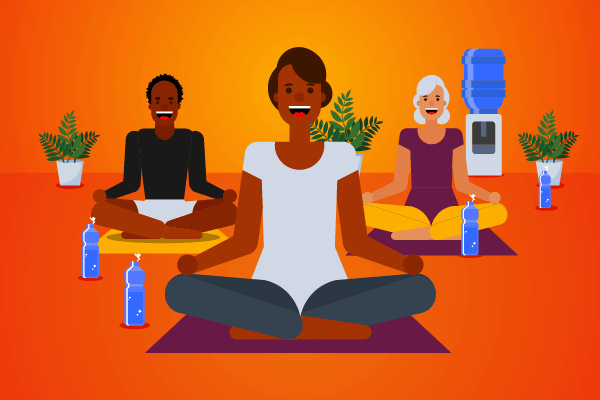 Yoga teacher insurance: it helps keep you zen. Because despite your best efforts to teach safe yoga practices, accidents happen and mistakes get made.

It could be a student over-stretching, practicing an asana incorrectly, or forgetting to tell you about a medical condition. Or it could be a simple slip and fall in the studio. Either way, next thing you know, your student is in the ER and you're saying namaste to a legal claim.

Now lawsuits aren't just expensive, they can ruin your reputation. They can also cause a great deal of stress. So why risk putting pressure on your prana when yoga instructor insurance can protect you? Not only from the emotional strain, but from the financial fallout too.
Best yoga teacher insurance

Most studios carry insurance. Just don't assume it covers you. To be on the safe side, all yogis should have their own insurance. And whether you give classes at health clubs, teach from your own home, your backyard, the local park, or the beach, two policies are essential:

Then, depending on the way you run your business, you may also need:

• Workers' compensation insurance (employee injury and illness)
• Business personal property insurance (lost, stolen or damaged equipment)
• Cyber insurance (attacks, hacks and data breaches).

We'll cover these policies later in this post. First, let's talk about the essentials: liability insurance for yoga instructors.
General liability insurance for yoga instructors – why you need it

Picture this:

You're taking a class in a new studio. The owner's spared no expense, investing in beautiful hardwood floors and ornate mirrors along the walls. During the class a student loses his balance, slips and falls against a mirror, breaking it and cutting himself badly.

Now, say that student needs stitches and time off work. To recover the cost, he might file a claim against you, the yoga studio, or both.

Without general liability insurance , you'll have to find the cash to cover his medical bills and lost wages. Then, if the case goes to court, you'll be looking at legal fees plus compensation if you're found at fault. And as slip and fall claims come in at around five or six figures, that could be a serious stretch.
General liability insurance – what it covers

General liability insurance (or commercial general liability insurance, as it's also known) can cover:
Claims of accidental damage caused to someone or their property (including fire damage at premises you rent)
The cost of medical treatment, legal fees and compensation (regardless of fault)
Claims made worldwide (as long as they're filed in the US or a US territory).
You also get up to $250 a day to help cover lost earnings and extra expenses while a claim's being settled.
Professional liability insurance for yoga instructors – why you need it

Charging for your yoga classes makes you a professional. And professionals can be sued. Even when they've done nothing wrong.

Let's say you've been giving private classes to a regular client. After several weeks, she develops lower back pain and blames you, saying you provided inadequate supervision and poor instruction. To pay for her medical care, she then sues you for negligence.

Now you have to defend yourself – your reputation is on the line. Trouble is, that's going to cost you. You'll be looking at attorney's fees, court costs and compensation, too, if the case doesn't go your way.
Professional liability insurance – what it covers

Professional liability insurance (or errors and omissions insurance as it's also known) covers you for claims of:
Negligence (you made a mistake, gave bad advice or failed to deliver what you promised)
Bodily injury caused by your yoga teaching
Sexual misconduct or abuse
Libel or slander.

Even if there are no grounds for the claim, a professional liability policy can pay your legal fees and court costs plus any compensation due (up to your policy limits).

But that's not all professional liability insurance covers.

If you accidentally lose sensitive client data, it can pay up to $25,000 towards an HIPAA fine. And up to $5,000 should you find yourself facing disciplinary action.

What's more, as long as you've had continuous cover previously, your coverage can be retroactive. (That means it can cover claims made by students you've taught in the past, too). You can pick the date you want your policy to go back to when you buy it.
Workers' compensation insurance
If you employ anyone, even just one person, workers' comp insurance is a legal requirement in most states. (It's worth checking the rules in your state as penalties can be severe.)
But it's a good policy to have anyway. Not only can it take care of the cost of injured employee lawsuits, it also protects you from the cost of employee claims for:
Injury or loss of limbs
Repetitive motion injuries
Work-site accidents
Medical treatment
Lost wages (up to limits)
Death and related costs.
Business personal property insurance

Do you take your own yoga equipment with you to classes? If so, a business personal property policy is good to have. It protects your kit (including laptops and mobiles) from loss, damage or theft.
And let's face it, when you're out and about heading from one session to the next, things are more likely to get lost, stolen or damaged.
What's more, BPP insurance also protects portable equipment kept at home. That includes everything from your eye bags, blocks and blankets to your mats, music system and singing bowls.
So whether you just store your kit at home or teach there, it's a useful policy to have. Add it to your general liability insurance in a couple of clicks.
Cyber insurance

You might think yogis don't need cyber insurance. Sadly, you'd be wrong. With less money for tough cyber defenses, you're an easy target for hackers.
And these days, cybercriminals don't just hold your website to ransom. Email and wire transfer fraud are on the increase.
If you use email, transfer money online or own a website, you need cyber insurance. It doesn't just give you the financial resources to recover from an attack, you'll get 24/7 technical support to help deal with it too. So you're back in business teaching classes again in no time.
How much does yoga teaching insurance cost?

Our professional liability insurance policies start from $16.50 a month, general liability insurance from $25.99. But how much your insurance costs, varies from business to business. The price you'll pay will depend on factors like:
Where you're based
The size of your business
What limits you choose.
There are ways you can reduce your premium. You can choose to pay a higher deductible (the amount you'll contribute if there's a claim) for example. Just to be sure you could afford to pay that figure if you do have to claim.
There are payment options available, too. Spread the cost by paying monthly or quarterly. Or pay in one lump sum. It's up to you.

Yoga teacher insurance quotes

If you're ready to get your quote, you can quote online now.
But if you're still not sure which yoga instructor insurance policies you need, there's more information on our website. Or you can call us at 978.344.4215 to talk you through your options.
errors and omissions insurance
general liability insurance
professional liability insurance