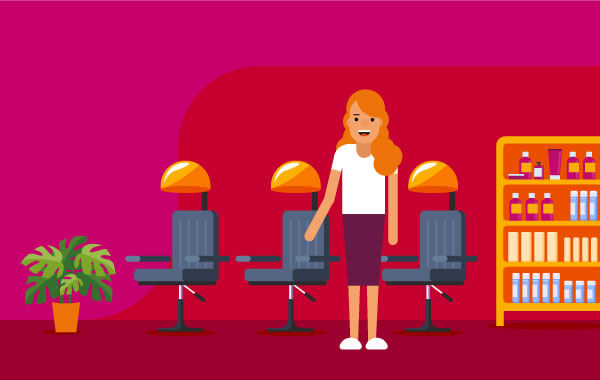 Do you rent a booth, or chair, in a salon? Then you need booth rental insurance. It's coverage for independent beauty professionals like you.

You could be a manicurist, barber, hair stylist, esthetician or cosmetologist. Whatever your specialty, you need your own insurance. Because most salon owners don't provide it.

In fact, they'll probably require you have liability insurance for your booth rental before they'll sign a contract with you. And for good reason. It's to protect themselves — as well as you — from customer lawsuits.
Why do booth renters need insurance?
Flying solo behind the chair is great, isn't it? No-one tells you when to work, what services to offer, or what to charge for them. Aside from your rental fee, your earnings are yours to keep. And you get to use your favorite products, too.

But as a booth renter, you're not in a partnership with the salon. You're running a small, independent business, separate from the salon business. That means things like marketing, book-keeping and having the right licenses, are all down to you.

So is making sure your beauty business is protected with the right insurance. Because without it, if a client makes a legal claim against you, things can turn ugly. Fast.

All it takes is a treatment going wrong, an allergic reaction, or a slip and fall in the salon. And a lawsuit won't just damage your bank balance. It can leave your reputation permanently scarred.

Booth rental insurance can take care of the costs of a claim for you. Meanwhile, you can carry on treating your customers with confidence. Knowing your business will stay healthy and your reputation glowing.
What kind of insurance do booth renters need?

There are three, basic business policies you need in your booth rental insurance package:

• General liability insurance
• Equipment insurance
• Professional liability insurance.

Then there are other policies you might need, depending on your contract with the salon:

• Business interruption insurance
• Property insurance
• Equipment breakdown insurance
General liability insurance for booth rentals

General liability insurance protects you from the cost of claims for:

• Injury to a person
• Damage to someone else's property
• Slander or libel

Imagine a customer trips over a hairdryer cable and needs medical treatment for a sprained ankle. Or, you spill hot wax on a client's brand-new designer handbag, ruining it. Or, you bad-mouth a tricky customer and it gets back to them.

You could find yourself facing a claim. If that happens, your general liability policy can pick up the tab for medical bills, repair or replacement costs, legal fees and compensation.

A salon owner may require you to have general liability insurance before they'll rent you a booth. They may also ask to be listed as an additional insured on your policy. In case one of your customers tries to file a claim against the salon as well as you.
Equipment insurance for booth renters

In the beauty industry, your tools are your trade. You need to make sure they're covered for theft, damage or loss. Unless of course your pockets are deep and you can afford to repair or replace them.

You can add business personal property coverage to your general liability policy. It covers anything portable in your booth – even your potted plants. And it protects your equipment in transit too.

Which is pretty handy. Because if your stuff gets stolen, lost or damaged, you might find it tricky to treat customers without it.
Professional liability insurance for booth rentals

As a professional beautician, you treat people's hair, faces and bodies. If you make a mistake, you can cause pain, emotional distress — even scarring. Trouble is, as a professional, customers can sue you even if there are no grounds.

Professional liability insurance can take care of medical bills, legal fees and compensation if a client claims you made a mistake. Even if the case is groundless.

Also known as errors and omissions (or E&O), it covers claims for:

• Emotional distress: you color a client's hair and the chemicals in the dye cause a painful skin reaction. Your client has to have medical treatment and is off work for several days. She files a claim against you to cover his medical bills, loss of earnings, pain and mental suffering.
• Treatment gone wrong: you patch test a customer in advance for a facial, but on the day the treatment causes a severe rash. He has to cancel a modeling job because of it and get medical care. He sues for lost wages and medical bills.
• Loss of personal data: a customer sues you for accidentally losing a file containing their personal information.
Most salon owners prefer to booth rent to beauty contractors who have a solid following. Without professional liability insurance, if something goes wrong and a client claims, your reputation is on the line.

You've worked so hard to build your good name and your client base. Why would you risk losing it, and clients with it? It could be the end of a beautiful thing.
Business interruption insurance

If something unexpected stops you working – a fire, or flood, let's say — you could lose earnings. Depending on how long it takes to get back to business as usual, you could even lose clients. To prevent that you may even have to rent a booth in a different salon.

As an independent beauty contractor, it's down to you to make sure your livelihood is protected. Business interruption insurance can cover your financial losses if something happens to stop you doing business.

That includes lost income, moving costs, equipment hire fees and extra rent if you move to a temporary booth.
Property insurance

Depending on your contract with the salon, you may be responsible for the area around your booth. If that's the case, you'll need coverage for property damage.
Property insurance can cover the cost of repairs to the salon premises and contents if caused by fire, theft or other covered disasters. Even if it's rented, not owned by you. Which is handy if you use equipment in the salon that doesn't belong to you. Like hood dryers, or washbasins.
Equipment breakdown insurance

If you've taken out business personal property insurance, your tools and equipment are covered for loss, damage or theft, but not breakdown.

Of course, if you have several sets, that's not a problem. If you don't, and something breaks down, time spent waiting for repairs, could lose you customers.

Equipment breakdown insurance can get your equipment fixed. Or, if it's beyond repair, it'll replace it.
Business owner's policy

A business owner's policy (BOP) is actually a bundle of basic insurance for small business owners. So, if you're seeing dollar signs as you read through the list of policies independent beauty contractors need, a BOP might be for you.
What's more, it usually works out cheaper than buying the coverage you need separately. And because it acts as one policy, it's easier to manage, too.

A BOP typically includes general liability, property and business equipment insurance as standard. However, you can add on coverage for things like data loss protection, or equipment breakdown if you need it. And take out what you don't.
If you're not sure what coverage you need for your booth rental, call us at 978.344.4215.
For more information about cosmetologist insurance, barber insurance, hair stylist insurance, nail technician insurance, or esthetician insurance, please visit the page which best describes your business.
booth rental
general liability
independent contractors
professional liability