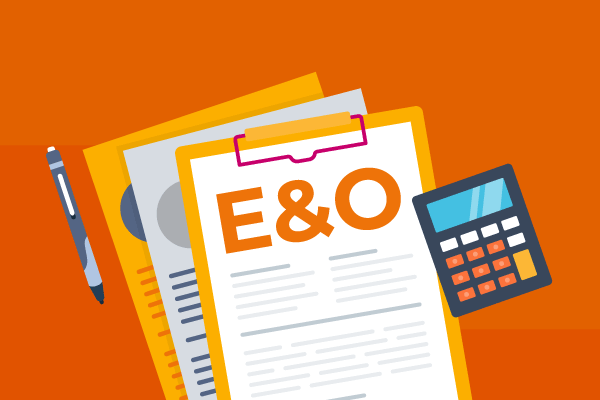 So you've finally achieved your dream of being a management consultant. You've got the skills, the drive, and everything else you need to be a success. However, your checklist isn't complete until you get the right protection. And that's errors and omissions insurance for management consultants
What is errors and omissions insurance for consultants?
Sometimes called E&O insurance, or professional liability insurance, errors and omissions insurance protects your consulting business from risks not normally covered by commercial general liability insurance.
General liability is coverage for claims you've caused physical, or personal injury, or property damage, when you're working. Whether that's at your offices, or your client's.
Errors and omissions, on the other hand, is coverage for claims related to the work you do.
In the same way medical facilities need malpractice insurance, management consultants need errors and omissions insurance. The reason's simple. The services you provide are professional. And that means clients can sue you for negligence. Even if the claim is groundless.
In fact, most clients expect management consultants to carry errors and omissions insurance. That way, if a mistake is made, the client knows you've got the means to make up for financial loss resulting from it.
What risks do management consultants face?
You're only human. Whether you're a management consultant or an opera singer, mistakes happen. But sometimes the tiniest mistake can end up costing you.
To give you an idea, imagine you have an employee who recommends a new billing system to your client.
Unfortunately, the system fails to charge your clients' customers. And your client loses hundreds of thousands of dollars. To recover the loss, your client sues you.
In this sort of situation, your errors and omissions insurance can pay for your legal defense, and damages. Which means your personal assets are safe.
You know how much a legal defense costs. It can run to thousands of dollars. But if a client brings a lawsuit against you, and you don't have the cash to pay the claim, your personal assets can be seized. Your home, your savings, could all be taken.
But did you know you can be sued for negligence even if you haven't made a mistake? Errors and omissions insurance protects your business even if the claim is groundless.
What does errors and omissions insurance cover?
Essentially, everything you or your employees do, advise, or recommend to clients, is your responsibility.
Errors and omissions insurance will cover mistakes or acts made by you or your employees such as:
Errors and omissions – even if you're not at fault
Claims made against you – including work you've done in the past
Claims made worldwide – so long as they're filed in the US, one of its territories, or Canada
Your defense costs – including hiring you an attorney and compensation, if you're liable.
Do I have to have errors and omissions insurance?
Nope. It's not a legal requirement. But it's a wise precaution. And it sets the right example to your clients.
Because any business calling itself 'professional' needs professional liability insurance, or E&O. Your business and personal assets aren't properly protected without it.
You'd advise your clients not to risk them. So why wouldn't you take your own advice?
What does errors and omissions insurance cost?
The cost of errors and omissions insurance varies depending on the size of your business and its location. But it's a small price to pay when you compare it to what you could lose without it.
Find out more about professional liability insurance for consultants. Or, if you'd rather talk to someone, call us at 978.344.4215.
errors and omissions insurance
professional liability insurance