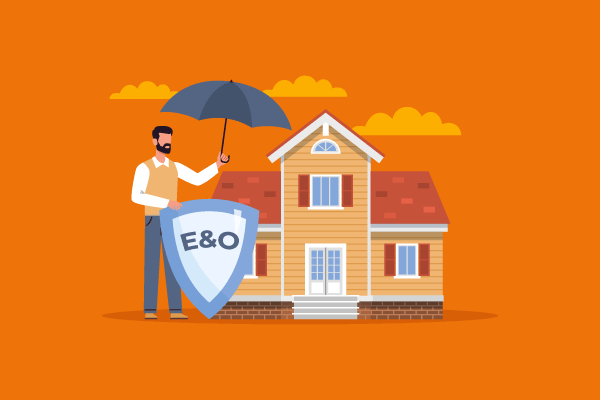 The real estate industry in the United States is enormous. In 2022, the industry was worth $237.5 billion.
It's easy to see why it's grown so large over the past few decades. The value of the real estate market in the US has exploded, especially post-pandemic. It was worth over $110 trillion in 2022.
And before you ask, no, that isn't a typo.
The real estate industry in the US is managing the second largest market in the world. Only just behind China.
So, what does this mean for the average real estate company? Well, it means more business and more opportunities for growth.
But with more business comes more risk. And more opportunities to make mistakes.
That's where real estate errors & omissions insurance (E&O) comes in. (You might also know it as real estate professional liability insurance.)
What is errors & omissions insurance in real estate?
Let's say that you run a growing real estate company (which, if you're reading this, is probably true).
You've got dozens of customers coming through your doors every week. Things are getting a bit hectic, the pressure is on, and one of your associates makes a mistake.
Maybe they put in the wrong offer for a property, causing the client to lose out on the purchase. Or they advise a client to sell their property for a certain amount, which turns out to be far too low.
In cases like this, the client would be well within their rights to sue you. Even if it turns out that the associate did nothing wrong.
This is where errors & omissions insurance comes in. It's a kind of real estate agent insurance that protects you when you're hit by a legal claim.
It'll pay for a lawyer to defend you. And pay any compensation or damages that you owe.
Why do real estate agents need E&O insurance?
Insurance for real estate agents can be tricky. There are a lot of different kinds of insurance you can get, all of which cover different things that you may or may not need.
Errors & omissions insurance is blissfully easy to explain, though. As are the reasons why it's probably a great idea for you.
First and foremost is the fact that it covers your legal costs for claims made against your business. Even if the claim is baseless and you aren't found to be at fault.
Depending on the type of claim, that could be worth tens of thousands of dollars.
On top of that, it pays for any damages or compensation you might owe if you're found to be at fault. So, you're covered either way.
With the addition of legal fees, that could run the bill even higher. If you didn't have E&O insurance, that is.
At the end of the day, mistakes are going to happen. The question you have to ask yourself is: can you afford not to have cover when they do?
Who needs real estate E&O insurance?
Well, the obvious answer is: real estate agents. Not helpful? Okay, fair enough.
If you're a real estate broker or own a real estate brokerage, E&O insurance is a great thing to have. Your business might deal with dozens of clients a week. As well as real estate agents working for you or in partnership with you.
That's a lot of risk. So you're best off being covered.
Even if you're a freelancer broker, you should still invest in E&O insurance. Whilst you might deal with fewer clients on a day-to-day basis, a claim would cause even more problems for you without the financial clout of a larger business at your back.
It's also great for real estate agents. Even if you work for a brokerage. It helps make sure you're covered in any situation.
What does real estate errors & omissions insurance cover?
It covers you in most cases where a client accuses you of professional negligence. This could be because of some advice you gave them, or something you forgot to mention. Whether you were at fault or not.
So, even if the claim is baseless, your legal costs are covered. And if it does turn out that you were at fault, any compensation or damages that you owe will be covered too.
Errors & omissions insurance covers your past work too. As long as you set up a retroactive date when you buy your policy. So you don't have to lie awake at night worrying whether that nightmare of a sale from last year will come back to haunt you.
E&O will even cover you for claims made against you around the world. As long as they're filed in the US or Canada.
What does real estate errors & omissions insurance cost?
It's difficult to say exactly how much any kind of insurance would cost. The costs will change depending on a huge variety of different factors.
We'll go over a few here, though, to give you an idea of what might affect the price you'd pay.
First, the size of your business will change the price a lot. The larger your business, the more you should expect to pay.
This is because insurers see the work you do as being riskier. Mainly because you'll be dealing with many more customers than smaller businesses. So, there's a higher chance of a mistake being made that might lead to a claim.
Where you're based will affect the price too. If your real estate business is located in, say, New York, the cost of a potential claim would probably be a lot higher than a business based in Iowa. So insurers have to adapt for that.
Finally, the higher your coverage limit, the more you'll pay. Take this into consideration when you're considering your options.
Seal the deal
The world of real estate doesn't come without risks. Errors & omissions insurance can help your real estate business stay ahead of any mistakes that might happen. As well as the pricey legal fees and compensation you might be due.
Want to find out more? You can call us at 978-344-4200 or get a real estate E&O insurance quote here.
errors and omissions insurance
help with Insurance
questions about insurance