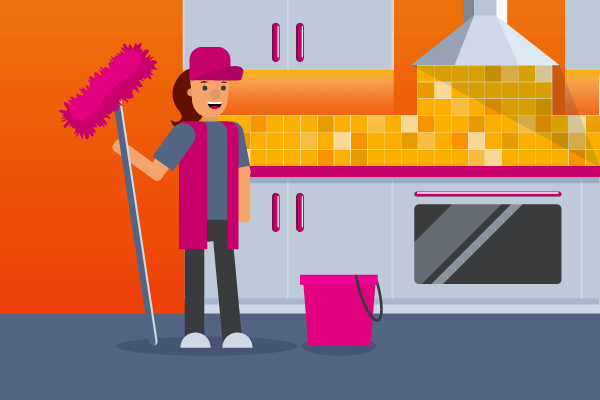 Workers' compensation insurance is one of the most important policies you need when running a janitorial business.
It protects your employees if they get injured or hurt while working for you. It does this by covering their medical expenses and lost wages. And it saves you the expense of having to pay for them yourself.
What's more, workers' compensation insurance is required by law in most states.
Running a janitorial business without it, could result in you incurring severe fines and penalties or even jail time, in extreme cases.
What are the requirements for janitors' workers' compensation insurance?
Obviously, if you work on your own and for yourself, you may not need workers' compensation insurance. But there are other cleaning business insurance policies you might want: general liability insurance, for example.
You'll need workers' comp insurance if you employ one or more people other than yourself.
This includes:
Full time and part-time employees
Temporary employees
Self-employed and payroll employees
Volunteers and interns.
Why do businesses need workers' compensation insurance?
Anyone who works for you, under your supervision and using your equipment, can hold you responsible for their safety and welfare.
Take the following example:
One of your employees falls off a ladder while trying to dust the cobwebs from a ceiling. She breaks her leg and has to go to hospital. Later, she claims the ladder she was balancing on – a ladder which you supplied – was wobbly.
In this case, your employee could blame you for the accident and take you to court.
But if you're insured, it doesn't matter whose fault the accident was – whether the ladder you supplied was rickety or not. Your insurance kicks in to cover your employee's medical expenses and missed wages for time taken off work.
How do I minimize the chances of a claim?
Ideally, you want to reduce the chances of damaging claims to begin with. For your own peace of mind, as well as the health and safety of your employees.
Luckily, there's plenty you can do.
Our factsheet for janitorial businesses has lots of helpful tips on preventing accidents at work.
They include:
Training your employees in how to use chemicals safely, including proper cleaning methods and not mixing chemicals.
Making sure new staff are certified to perform certain tasks, especially specialist ones like carpet cleaning and restoration.
Supplying your employees with the right protective gear when using cleaning and disinfecting products.
Regularly maintaining your cleaning equipment and checking it for safety.
When hiring new employees, it can't hurt to set out your workers' contract clearly. That way they know what tasks and services they're expected to perform, what equipment to use and whether there are certain chemicals they should steer clear from.
You might also want to invest in a company handbook or training guide for them to refer to at work. This helps keep them safe by reminding them of their risks and outlines clearly what happens if they have a work-related accident.
Taking these measures won't stop accidents from happening, of course. But it's good to know that if and when they do happen, everyone's on the same page.
Do I need workers' comp insurance if I work with independent contractors?
Not usually, no.
Janitors' workers' compensation insurance protects your business alone. It's designed to cover your employees and not anyone else's.
Any independent contractors you work with will usually have their own insurance policy. (It's wise to check with them first so you know they're professional.)
Independent contractors (window cleaners, air duct cleaners etc) are their own operators. So, if they slip or fall under your watch, regardless of who's at fault, it's their insurance you have to deal with and not yours.
That doesn't mean they won't try to sue you though. Some contractors might be tempted to push a claim through the law courts if they think they'll benefit from it.
And if they think you've supplied them with faulty equipment, then today's 'where there's blame there's a claim' culture might encourage them.
Fraudulent claims are unfortunately on the rise and the janitorial sector is no exception.
The long and short of it is that when working with contractors, you need to check whether they're insured before you start working with them.
That way, any claims are handled between your insurers and you don't have to lose time, money or sleep over them.
Is janitors' workers' comp insurance expensive?
Compared to what a fine for not having it will cost you? Or the cost of paying for your employee's medical bills and your own legal expenses?
Not really.
The cost of our janitors' workers' compensation insurance depends on a number of factors, including what state you live in, how many employees you have, your payroll and history of past claims.
Prices vary from one janitorial business to the next so it's worth speaking to one of our advisors in person if you're not sure you're buying the right cover.
Depending on what safety procedures you have at work, we might even be able to swing a discount for you.
Get a janitors' workers' compensation insurance quote online
Buying a workers' compensation policy couldn't be easier. Either request a quote online or call us at 9778.344.4215.
contractors
general liability insurance
workers' comp insurance