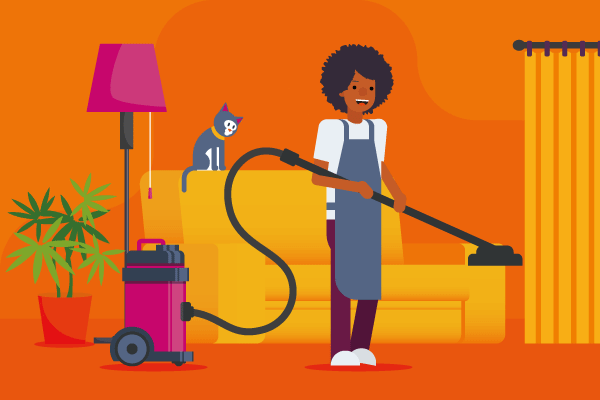 If you're an independent cleaner, or you run your own house-cleaning company, you need the right insurance. Without it, a minor slip-up could cause a major mess. It could even clean you out completely.

So what insurance policies do house cleaners need? Why? And what do they cover?
What insurance policies do house cleaners need?

Most domestic cleaners typically need:

Then, depending on the way you run your business, you might also want cyber insurance.
General liability insurance for house cleaners
Your line of work means you're in and out of people's homes, handling their prized (and sometimes pricey) possessions. And however careful you are, accidents happen.

But we're not just talking about breakages and damage caused by spills and drips here. Because wet floors are unavoidable in the domestic cleaning industry, we're talking about the risk of slips, trips and falls.

Now, the average slip and fall settlement is between $15,000 and $45,000, but they can cost a lot more. In fact, a recent slip and fall claim would have cost one of our customers over $105,000 to settle. Luckily, he had a general liability policy which took care of it.

Of course, there are ways to reduce the risk of claims like these. And we've created a handy factsheet you can download to help you do this. But the best protection for your business and your bank balance is general liability insurance.
What does cleaners' general liability insurance cover?

General liability insurance can cover the cost of legal claims for:
Property damage
Bodily injury (if it's not related to your services)
Personal injury (slander or libel)
Imagine a client slips and falls on your freshly mopped floor, or trips over your vacuum cord and breaks a leg. Without general liability insurance you'd have to pay their medical bills. And legal costs, if they sue.

Or you knock a client's antique vase off a side-table on to the floor and it shatters. Without general liability insurance you'll have to pay to replace it.

And what if a particularly tricky client overhears one of your employees saying something not-so-nice about them? You could be sued for personal injury. Without insurance, you'll have to pay legal costs and damages, too, if the case doesn't go your way.

If someone makes a claim against you for injury to themselves or their property, general liability insurance can pay medical bills, repairs or replacement costs and legal fees, regardless of fault. But if it turns out you're liable, it can pay compensation too.
Business personal property (BPP)

General liability insurance doesn't cover your own property. So if you take your own cleaning equipment to jobs you'll want to add business personal property (BPP) to your insurance package.

BPP gives you up to $25,000 of coverage for your equipment. And that's worth having. Because you might find it tricky to work without your cleaning kit and tools like walk-behind machines or scrubbers can be expensive to replace or repair.
Workers' compensation insurance

If you don't have any employees, you can skip this one. But if you do – even if you only employ one person – you need workers' compensation insurance. It's required by law in most states.

Check your states' requirements, because penalties and fines can be severe. But a workers' comp policy is definitely worth having anyway, because it protects you from the cost of employees' workplace injuries. Which can be crippling.

If one of your staff is hurt or falls ill as a result of working for you, workers' compensation insurance can pay their medical bills and replace missed wages. What's more, it can cover legal costs and compensation if they sue.
Cyber insurance

Now you might think a house cleaning business doesn't need cyber insurance. But if you have a website and use email, you're a target for hackers.

One wrong click on an email is all it takes. Next thing you know you've transferred money to fraudsters. Or they've diverted your clients' payments.

A cyber policy means you can click with confidence. If you get hacked, or defrauded, you'll have an award-winning response team ready to help you deal with the attack. And the cash to get you up and running again in no time.

Our cyber policy also comes with a mobile app you can use for claims 24/7. It'll keep you updated on the latest cyber threats and security intel, too.
Do I need insurance if I work for a house cleaning company?
If you're employed by a domestic cleaning firm, you're probably already covered. But it's worth checking.

As well as being sure your employer has workers' compensation insurance, you want to check exactly what else you're covered for.

Do you use your own cleaning equipment on jobs, for example? If so, find out if it's covered on your employer's policy. If not, you'll need to get your own BPP policy.
House cleaning insurance quotes online

Still not sure what cleaning business insurance you need? Call us at 978.344.4215. We'd be happy to talk it through with you.

Or if you're all set, get a quote online now.
cleaners
domestic and residential cleaning
janitors