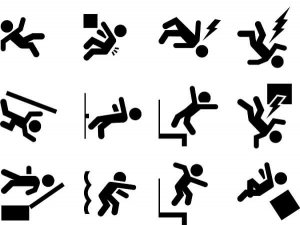 Workers' compensation insurance is coverage designed to protect your business from the cost of workplace injury claims. Which can be crippling.
In most states, the minute you hire your first employee, you're required to have workers' comp. If you don't, you'll face fines, penalties, possibly even prison.
But it's a really good policy to have anyway.
Because if one of your employees falls ill, or gets hurt, as a result of working for you, workers' compensation insurance can pay for medical bills, lost wages and legal expenses.
What's more — no matter who's at fault — it can protect your firm from injured employee lawsuits.
And, worst case, it can provide death benefits to cover funeral expenses and support for an employee's dependents.
The history of workers' compensation insurance
The idea of paying out to workers for bodily injury has been around for centuries. It can be traced as far back as 2050 BC, in Sumeria (now part of Iraq) where compensation was awarded to workers who'd lost body parts.
The Ancient Greeks, Romans, Arabs and Chinese had compensation schemes, too, with 'schedules' for the type of injury and its value. A thumb, for example, was worth half the value of a finger. While the amount of money you'd get for losing an ear was based on its surface area.
These ideas form the basis of workers' comp laws today. But it was a while before paying out workers for bodily injury or disablement, legally caught on in the U.S. And it took The Jungle, Upton Sinclair's book about the Chicago meatpacking houses, to do it.
Exposing the appalling working conditions of factory assembly lines, it stirred up public outrage. And by 1911, workers' comp laws began to be passed in states, starting with Wisconsin. Mississippi bringing up the rear in 1948.
What does workers' comp insurance cover?
Workers' compensation laws safeguard employees. If they're hurt, or become ill as a result of working for you, they're entitled to benefits. Like having their medical bills paid and replacing lost wages.
Which is why, even though your state requires it, as an employer you want worker's comp coverage in place. So you don't have to foot the bill for these yourself.
Your policy can cover claims brought for:
• Injury, or loss of limbs
• Repetitive motion injuries
• Work site accidents
• Medical treatment
• Lost wages (up to limits)
• Death and related costs
What workers' compensation insurance doesn't cover
Under workers' comp law, it doesn't matter who's at fault for an accident in the workplace – employee, employer, co-worker or customer – an injured employee is entitled to benefits.
But there are some instances where coverage might be denied:
If the employee was injured:
when they weren't working for the employer
while committing a serious crime
while violating company policy
while intoxicated, or under the influence of drugs
And if the injury was self-inflicted, or the worker started a fight at the workplace.
Workers comp regulations vary from state to state
Nowadays, workers' compensation insurance is law in every US state. But the requirements vary. Not just from state to state but by industry, the size of your firm, and its payroll.
In Alabama, for example, unless you're in the construction industry, coverage isn't required if a business has four, or fewer than four, employees. And coverage is optional if you employ domestic staff, farm laborers, or casual workers. Sole proprietors can opt out of carrying coverage.
In Hawaii, on the other hand, any employer with one or more employees (full- or part-time, permanent or temporary) must carry coverage. LLC members also have to be covered. Sole proprietors and partners are excluded, but they can choose to get coverage if they want.
Workers' comp coverage is required in every work situation in Illinois, and for every employer – even those with just one part-time employee.
Whereas in Texas, workers' comp insurance is optional for employers, unless they're in construction or under government contract.
Check workers' comp laws in your state
If you break the law, penalties can be severe. So, as an employer, it's vital you check out what's required in your state.
And if your business operates across state lines, or you have employees working remotely in other states, you need to make sure you comply with the workers' comp rules in each.
It can all seem a bit complicated. But this is where your insurance broker comes in.
A decent one will be able to guide you, make sure you have all the boxes ticked, and get the right coverage sorted. In minutes.
Common workplace accidents
The most common types of workplace accidents causing disabling injuries include:
Overexertion – excessive lifting, pushing, pulling, holding, throwing
Injuries caused by bending, reaching, climbing, standing, sitting, and slipping or tripping without falling
Falling on the same level
Falls to a lower level
Being truck by, or against, an object
Getting caught by or compressed in something
Injuries resulting from repeated stress or strain on the body (repetitive motion)
Car accidents
Assault or workplace violence
How to reduce the risk of workplace injury
Of course, as a responsible employer you want to avoid injury to workers wherever possible. Training is key.
There are lots of good reasons for training your staff. But if you want to reduce the risk of injuries it's not enough to just talk about safety in the workplace. You need to reinforce it with proper training and review safety procedures regularly.
Handy guide to small business risk
And if you're looking for more insight into the risks of running a small business, check out InsuranceBee's guide to small business risk.
There's a whole chapter on 'people' covering employment law, hiring and firing, employee rights as well as training.
The guide's downloadable as a pdf, too. So you can keep it handy to refer to.