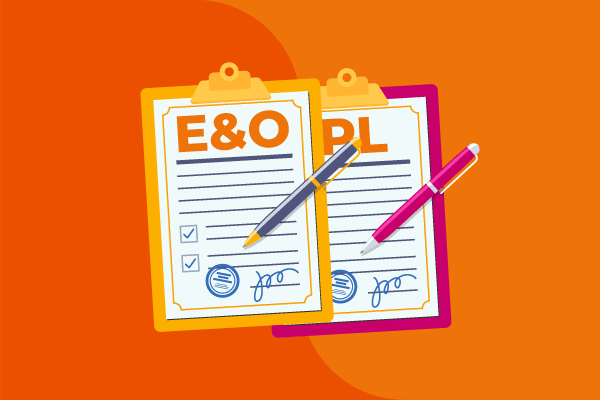 Among the findings from our recent survey that surprised us, was the number of SMB owners who don't have the right insurance.
Like sales, marketing and media consultants, engineers and architects:
'Yes', they said, 'we're covered. We've got general liability insurance'.
That's great. Because if you visit clients or they visit you, you need general liability insurance. It protects you from claims for bodily and personal injury, as well as property damage.
So, if a client trips over your laptop cable and hurts themselves in your office, general liability insurance can pick up the tab for medical expenses and your legal defense, if they decide to sue.
But let's get something straight. General liability insurance does NOT cover claims made against you for professional negligence.
And if you offer a professional service – which, as sales, marketing or media consultants, architects and engineers, you do – you're at risk of claims like these on a daily basis.
What's professional negligence?
Your clients expect a certain 'standard of care'. Basically, they expect you to help, not harm, their business. And if you breach that expectation, that's professional negligence.
That breach might be personal injury (libel or slander) your work caused. It can also be as a result of a mistake you made, or something you left out.
Say you're a freelance marketing consultant, working on campaigns for a number of different clients at the same time. Instead of "$10 off", an ad you posted on social media runs as "$100 off" for several days before you spot the typo and correct it.
It was a genuine mistake. But it's cost your client dearly. And guess who they'll expect to cover their losses? Yup. You.
Thing is, we all make mistakes. And if you're juggling several clients at once and trying to hit deadlines, it's easy to overlook something.
But if you're uninsured and you end up in court, facing a claim of professional negligence, you'll have to find the money for legal fees and compensation yourself.
Trouble is, a suit alleging professional negligence won't just dent your finances will it? It could damage something priceless – your professional reputation.
Ways to reduce risk
Of course, avoiding negligence suits is the smart thing to do. And there are measures you can take, to reduce the risk.
You can:
Ensure you know your state's duty of care laws (they vary, so check)
Make sure you produce work to your industry's standard
Keep on top of any changes to acceptable practices in your field
But the smartest thing to do is get your business – and your reputation ­– protected with the right coverage.
And that's professional liability insurance.
Professional liability insurance can cover your legal defense costs as well as compensation if a client makes a negligence claim against you.
It can cover you for an error – something you did wrong, or an omission – something you left out.
Which is why it's also known as errors and omissions insurance (E&O).
Covers past mistakes
What's more, E&O doesn't just cover mistakes you make from the day you take out insurance. You can make your policy retroactive, so it can cover incidents from the past, too.
All you have to do is pick the date you want your cover to start from and it's noted on your policy documents. Then, as long as you keep your insurance continuous, your cover extends backwards as well as forwards.
It's a particularly good thing for professionals like architects or engineers, this retro cover.
It can take years for cracks to appear, or for materials to deteriorate. And if that ends up costing your clients, then guess who'll get the blame…?
When it's not your fault
But if you're still not convinced you need professional liability insurance, or E&O, then think on this:
Some of the SMB owners we surveyed seemed to think that because they run their business ethically, they don't need E&O coverage.
Trouble is, just because you do, doesn't mean everyone else does. Did you know you can be sued even when you haven't made a mistake? Yeah. It sucks.
But if you've got E&O coverage, a frivolous suit won't faze you. Errors and omissions insurance can cover your defense costs, even if a claim is groundless.
So, get smart. Make sure you've got the right coverage.
If you're a professional, you don't just need general liability insurance. You need professional liability insurance, or E&O, too. Otherwise, you're exposing your business – and your reputation – to risk.
To find out more about the small business insurance packages we can tailor for professionals like you, or get a quote, click here.
Image used under license from Shutterstock.
engineers insurance
errors and omissions insurance
general liability insurance
marketing consultants insurance
professional liability insurance
professional negligence
sales consultants insurance
small business insurance