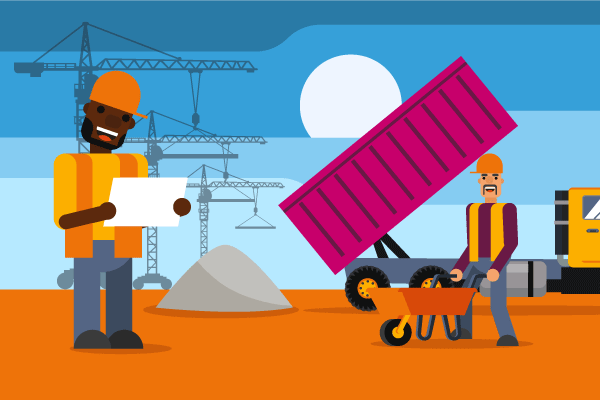 For contractors and subcontractors, workers' compensation rules are different. But before we dig down into the detail of who needs what, let's be clear on the differences between the two terms.
What's the difference between a contractor and a sub-contractor?

Contractors

If a client hires you to work on a specific project, or on a freelance basis, you're a contractor. The clue's in the name – you and your client usually sign a contract setting out the terms of the arrangement.

Your client pays you for your service and labor. And you might sometimes provide the equipment needed to get the job done. But you're not on your client's payroll and you're free to take on projects for other clients.

Subcontractors

As a contractor, if you need help, or specialized skills, to finish a project for a client, you might take on a subcontractor.

Subcontractors might be an individual or a company. Either way, they report to you, not your client. You oversee their work and pay them when their specific job is finished.

What is workers' compensation insurance?

Workers' compensation insurance protects employers from the cost of employee claims for workplace injury or illness.

A workers' comp policy typically covers:

• Accidents on-site or in the workplace (including loss of limbs)
• Injuries caused by repetitive motion (such as carpal tunnel syndrome)
• Medical bills
• Lost wages
• Death and related costs.

It can also protect you from the cost of a lawsuit – no matter who's at fault. And as these currently average around $40,000, it's a policy worth having.
Do independent contractors need workers' comp?
Self-employed, independent contractors aren't usually required to have workers' comp insurance. Unless you have any employees, of course. If you do, workers' comp insurance is a requirement in most states.

Check with your state's Department of Labor, because the exact requirements vary and penalties can be severe.

But there are other reasons you might want contractors' workers' compensation insurance.

To meet the conditions of your contract

As a contractor, your clients aren't usually required to carry workers' comp for you: you're not on their payroll, so you're not classed as an employee.

However, some clients may expect you to have your own workers' comp policy and ask to see your certificate of insurance before they'll sign a contract with you. That's to protect themselves if you're injured while working for them and try to claim compensation.

To safeguard your income

You may already have health insurance. But your policy may not pay out for a work-related accident or illness. That's when a workers' comp policy comes into its own.

If you have an accident at work, it covers your medical bills. And if the accident stops you working, it repays your lost income, too.
If you hire subcontractors
If you have no employees and only hire subcontractors you may still be required to have workers' comp. It depends on they way your state classifies workers as employees.

Even if your subcontractors have their own workers' comp policy, your state might still require you to carry workers' compensation insurance for them. It's best to check with your Department of Labor.
Do subcontractors need workers' comp?
As a subcontractor, you're not an employee, you're a separate entity, independent of the contractor, or firm, who hires you. Because you're not an employee, they don't need to carry workers' comp coverage for you.

But to protect themselves in case you try to claim against them, most businesses will write a workers' compensation insurance requirement into your contract. And they'll probably ask you to prove it by showing a valid Certificate of Insurance.

And of course, if you're a subcontractor with employees, most states require you to have workers' comp anyway.
For more information, on workers' compensation for contractors and subcontractors, read our blog post on workers' comp insurance for the self-employed.

And you'll find more on the other types of business insurance contractors and subcontractors need on our website. But if you'd like to talk it through with us, please call. We're always happy to help.
independent contractors
self-employed
subcontractors