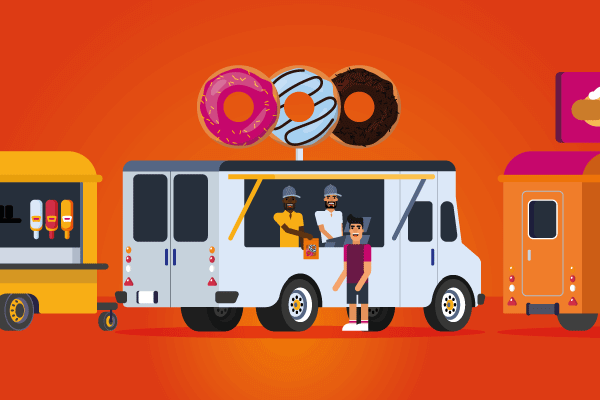 The US food truck industry is booming. It's estimated to be worth $1.2 billion in 2022.
With a history dating back to the 19th century, food trucks aren't new to the US culinary market. But the industry's taken off over the past decade. So what's the reason for this?
For enterprising chefs, it seems the relatively low start-up costs and high returns make food truck businesses an attractive alternative to brick-and-mortar restaurants. And thanks to social media, it's now easier to reach and engage with customers too.
So let's take a look at the key statistics for the US food truck industry in 2022. (All figures quoted are the most up-to-date at the time of publishing.)
The US food truck industry at a glance
Currently worth around $1.2 billion, the food truck industry is expected to grow 3.4% in 2022
Approximately 35,500 food trucks operate in the US
More than 40,000 people are employed in the industry country-wide
Starting a food truck business will cost you around $50,000-$60,000
Yearly food truck revenues can range between $250,000 and $500,000.
Now let's take a look at those headline stats in detail.
How big is the US food truck industry?
With an average annual growth rate of 6.4% over the last five years, the US food truck industry now has a market size of $1.2 billion.
How many food trucks are there in the US?
Over 35,500 food trucks are currently operating in the US. (Compared to 24,000 in 2020.)
How much does it cost to start a food truck business?
Food Truck Nation estimates you can launch a food truck business pretty cheap — for around $50,000-$60,000. That's less than a third of what it costs to start a brick-and-mortar restaurant. A chunk of this money goes on getting permits, licenses and making sure you don't break rules and regulations. Costs vary from state to state depending on requirements.
Which state has the most food trucks?
California has the highest number of food trucks, with 753 businesses operating in the state. It's followed by Texas, with 549 businesses, then Florida (502 businesses). And as these are three of the most visited states in the US, it seems tourism plays a key role keeping food trucks in business.
Where is the best place to start a food truck business?
Portland, Oregon, is the friendliest city in the US for food trucks, according to Food Truck Nation's index. Rankings are based on how easy it is to get the required permits and licenses. Other cities ranked in Food Truck Nation's top five are Denver, Orlando, Philadelphia and Indianapolis.
The most challenging city in which to open a food truck business is Boston. There, you'll have to go through three times as many procedures compared to, say, Denver. That's why, Washington DC, San Francisco and Seattle also rank low.
So if you're thinking of opening a food truck business, look for popular tourist destinations. In Nevada, (the third most-visited US state) the market's likely to be healthy. You'll also want to consider your market demographic. For example, 47% of millennials have eaten from a food truck.
What is the success rate of food trucks in the US?
Data shows that around 40% of food truck businesses are still in business three years after launch. But as figures for food truck industry success aren't available, this is based on restaurant industry figures.
Why do food trucks fail?
Food truck businesses typically fail as a result of poor planning. A good business plan is vital at start-up. Your business could be doomed from the outset, but you won't know that unless you've analysed your market and set yourself measurable goals.
Your food truck business can also fail because of poor budgeting, inadequate marketing, or customer service that's not up to scratch. And, of course, there are unexpected events which can have a major impact on your business. Like the Covid-19 pandemic.
Being able to adapt to shifting customer demand is key. During the pandemic, as people started working from home instead of the office, footfall in urban areas fell dramatically. Those food trucks which could relocate to residential areas, or partner with hospitals or grocery stores, did better during this period.
How many people are employed in the food truck industry?
The food truck industry employs over 40,000 people in 2022. The number of people employed in food trucks in the US has increased by an average of 10.2% over the past five years.
How much do food truck owners make?
Food truck businesses can make between $250,000-$500,000 per year. High-end food trucks (think gourmet menus) based in high-traffic cities can bring in from $20,000 to $50,000 in revenue in a month. At the other end of the scale, trucks selling simpler food (think hot dogs) in less populated areas, make $5,000 to $16,000 a month.
In 2017, Food Truck Empire surveyed 300, full-time food truck owners to see if running a food truck was worth it.
Here's what they found out:
Approximately 21% made over $200,000
30% made $150,000-$199,999
34% made $100,000-$149,999
Just over 10% made $50,000-$99,999
Less than 4% made under $50,000.
What are the main food truck industry trends in 2022?
Customers are driving trends in food truck industry cuisine. The demand for environmentally friendly produce continues. What's more, as well as locally or sustainably sourced items, consumers want vegan or plant-based menus. Gluten-free options are still desirable and there's a growing interest in alternatives to refined sugar too.
During the Covid-19 pandemic, savvy food truck businesses made as much as 50% of their revenue from order-ahead sales. And as social distancing rules look set to continue, it's a move that'll no doubt remain popular with customers.
Food truck business insurance requirements
The permits and licenses needed to run a food truck business differ from state to state. However, general liability insurance is a must-have, wherever you're based.
General liability insurance covers food truck owners for claims of:
Bodily injury – you accidentally spill hot coffee, scalding a customer. Your policy can pay for medical bills, legal fees and compensation if the case goes to court
Property damage – a grease fire in your food truck spreads, causing damage to a neighboring property. Your policy can pay for repairs and replacement
Personal injury – a customer claims you made a rude remark about them and sues you. Your policy can pay legal fees and compensation if it's due.
Add business personal property insurance to your general liability policy. It protects your business equipment from loss, damage or theft. As well as including equipment you take with you on the road, it also covers anything moveable you store elsewhere.
Business personal property can protect the things you'd find it hard to run your business without. That means everything from your fryers to your fridge, and your squeeze bottles to your soup warmer.
You'll find more information on the policies food truck owners need over on our website. But if you're still not sure which policies work best for you, call us at 978.344.4215. We'll be happy to talk you through your options.
business personal property insurance
food truck insurance
general liability insurance