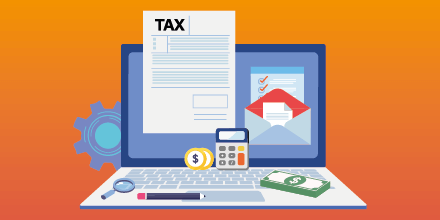 The biggest risk to small businesses is financial. But if the thought of financial risk management gives you tunnel vision, you're not alone.
93% of small business owners say financial risk was their biggest worry at start-up. And it still nags at nearly half of them long after they're up and running. Even so, when it comes to financial risk management, many SMB owners have a 'head in the sand' approach.
We get it. Running a business doesn't automatically make you an expert in finance or accounting. But it pays to be prepared.
What is financial risk?
It's all about the money coming in and out of your business and the potential for loss.
Say most of your firm's revenue comes from one particular customer. What happens if they suddenly stop paying? Or, what if interest rates soar overnight. Where will you find the extra money to meet your loan repayments?
Managing your financial risk means having a back-up plan. Safeguarding your finances so you don't end up out of pocket. Because if you've got outside investors, it's not just your own money you're risking. It's theirs too.
Financial risk management guide
To help you, we've created a cheat sheet. Taken from our Big Guide to Small Business Risk, it's the third in our series. (You can download the first cheat sheet, on the different types of business risk here. The second one, on legal risk, is downloadable from here.)
This one's all about money.
As well as pointers on how to manage credit risk, you'll find top tips on things like:
Common reasons the IRS charges penalties
Lending options for small businesses
Ways to safeguard your finances.
Feel free to download it.
Guide to small business risk
Or, if you're after a bit more detail, head over to our free, all-you-need-to-know risk guide. You'll find a whole chapter on money, including some useful insight from industry insiders.
Because, let's face it, money matters.
Click the image to download: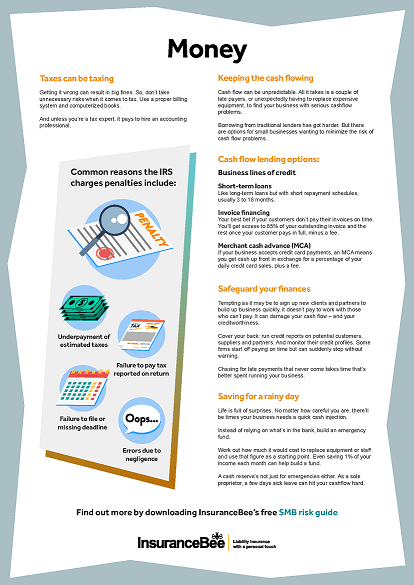 financial risk management
small business risk