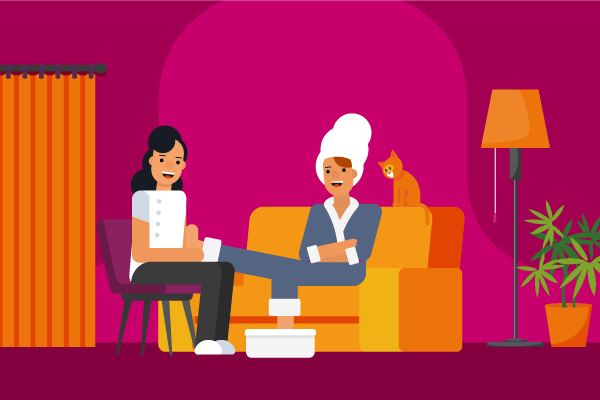 As a mobile beauty therapist, you take precautions to protect yourself. You treat clients in their own homes, after all. So, for safety reasons you always let someone know where you are.

Insurance is another safety precaution you want to take – to protect your mobile beauty business. Because without it, if a client makes a legal claim against you, the effects won't be pretty.

A lawsuit can rinse your bank account and leave your reputation badly scarred. And that could be the end of a beautiful thing: your business.
Why do mobile beauty therapists need insurance?

Going solo has its pluses. There's the freedom and flexibility for one thing. You get to choose your own clients and work when it suits you. And being mobile, means you have fewer overheads.

The downside is, while you still face the same risks as a beauty salon, the buck stops with you. That means if a customer sues for a treatment gone wrong, the legal fees, medical bills and compensation are your responsibility.

And because you treat customers at their homes or offices, you need to consider the consequences of accidental damage, too. You might accidentally spill hair dye on an antique rug, or break a valuable lamp. Or, have a client trip over your extension cable and need medical treatment.

Without the right cosmetology insurance cover, you'll have to pay to make good. Whether that's to fix a broken lamp, or a broken leg. And if the case goes to court, you could be looking at compensation too.

For mobile beauticians, insurance acts as a protective barrier. It means you can get out on the road and on with your treatments. Safe in the knowledge that if a client claims, it'll be more of a minor irritation than a major flare-up.
What insurance does a mobile beauty therapist need?

Whatever your specialty – skin, hair, or nails –mobile beauty therapists should have both professional liability and general liability coverage.
Professional liability insurance for mobile beauty therapists

A professional liability policy protects you from the cost of claims you've made a mistake or done something wrong. Even if there are no grounds for the claim.

Because sometimes treatments just don't go to plan. You patch test, but on the day the customer has an allergic reaction to a facial. Then, because they needed medical treatment and time off work, they sue you for compensation.

And sometimes clients just aren't happy with your service. It could be a haircut they hate, or eyelash extensions that irritate.

Professional liability insurance covers the cost of claims for negligence causing emotional distress, medical treatment and loss of earnings. It can pay for medical bills, your legal fees and compensation, if it's payable.
General liability insurance for mobile beauty therapists

General liability insurance can take care of the costs of a claim you caused someone injury, or damaged their property.

That includes medical bills and the cost of repairing damaged property (or replacing it, if it can't be fixed). It can also cover your legal defense costs and compensation due, if the case doesn't go your way.

It'll protect you from the cost of slander and libel claims, too.

Not that you're in the habit of bad-mouthing your customers. But let's say you're overheard making a remark to a friend about a particularly tricky client. Unfortunately, it gets back to the client and they decide to sue.

If that happens, general liability insurance can cover your legal fees and damages due.
What other insurance do mobile beauticians need?
Workers' compensation insurance

If you employ anyone, even if it's just one person, you need workers' compensation insurance. It's the law in most states, so don't risk a fine.

Equipment insurance
And what about all that equipment you carry around with you? As a mobile beautician you're like a mini-salon on the move.

What happens if it gets lost? Or damaged? Or stolen? Because let's face it, that's more likely to happen when you're constantly on the move.

Add business personal property coverage to your general liability policy. It protects your portable equipment, including things like your mobile phone, laptop and tablet.

A hairbrush, or heating irons, you can probably afford to replace. But a tablet or laptop? How would you run your business without those?
You can find out more about mobile beautician and cosmetology insurance. Or call us at 978.344.4215. We're always happy to help.
beauty therapists
freelancers
general liability
professional liability