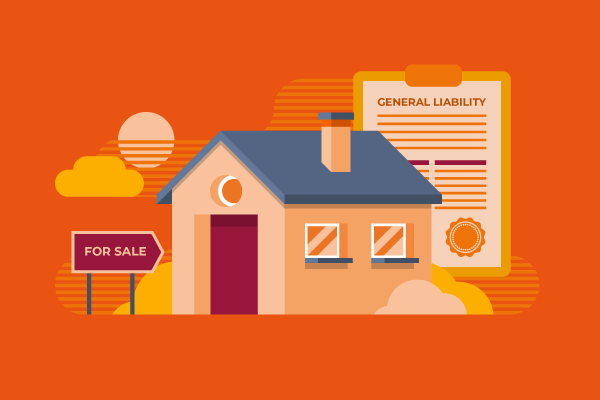 The real estate industry is growing at a healthy rate. It's worth hundreds of billions of dollars. And it's continuing to grow at over 3.5% a year, even with all the uncertainty in the economy.
Growth means more clients coming through your doors. More buyers, sellers, tenants, and landlords.
Sounds great, right? It is, but it also means higher risk.
Every time you're showing a buyer around a property, there's a risk. The same is true when a client visits your office. Or a landlord invites you for an inspection.
Accidents happen. The kind of accidents that general liability insurance is designed to help with.
Why do real estate agents need general liability insurance?
Maya Angelou said that we should all be "hoping for the best, prepared for the worst, and unsurprised by anything in between".
Any business would benefit from this approach. Especially when it comes to insurance.
Claims can come from anywhere. At any time. From any one of your clients.
General liability covers you for a bunch of these claims. Any of them could cause your business serious problems.
Without insurance, a claim could cost you anywhere from a few hundred dollars to well over $100,000.
Legal fees, compensation, lost business. The costs quickly add up.
So what exactly does general liability insurance cover you for?
Coverage for injury
To start, general liability insurance covers you for claims of personal injury. These could be from clients, vendors, or other people associated with your business.
(Just a heads up that it won't cover you for injury to your employees. That's what workers' compensation is for.)
Personal injury claims are common. Over 400,000 are filed every year in the U.S.
For real estate companies, the threat of a personal injury claim is very real. A client could injure themselves while viewing a property with you. Or they could be hurt while visiting your offices.
It could be a fall down some stairs. Or someone spilling hot coffee on them during a meeting.
What matters is that you're covered for any costs that come out of a claim. That includes compensation, legal fees, medical expenses, and loss of earnings.
And these costs can ramp up quickly. The average personal injury settlement between 2016 and 2021 was $62,600.
That's a lot of money. And enough to knock loads of real estate companies out of business.
Coverage for property damage
General liability insurance also covers you for property damage claims.
You probably have dozens or even hundreds of viewings a week. Any one of these could lead to a property damage claim.
Let's say you're showing a buyer around a property. You're caught up in explaining about the swanky new kitchen and trip on a step, knocking a valuable picture off the wall.
Or maybe instead of damaging a picture, you put your hand through some drywall as you fall.
Your insurance covers you for any costs of this damage.
It'll also help you maintain a good relationship with the property owner. So you can hopefully keep them as a client.
The last thing you want is to struggle to compensate them for the damage.
A few other bits and pieces
A general liability policy also covers you for claims of copyright infringement and defamation.
You probably do a lot of marketing. Selling properties, attracting buyers, and making sure everyone knows about your business.
Sometimes during a campaign, you might get accused of stealing another company's idea. Or even infringing on a copyright.
It's a serious accusation. And one that can lead to a court battle, legal fees, and compensation.
A copyright infringement settlement can cost up to $30,000. It can even go past $100,000 if the other side can prove you were aware of the infringement and still went ahead with your campaign.
Thankfully, your general liability insurance will cover you for any of these costs.
It'll also cover you for any claims of defamation – if someone accuses you of bad-mouthing them. These can be tricky to deal with and settle for an average of $15,000.
What isn't covered by real estate general liability insurance?
We've highlighted a few things that general liability insurance doesn't cover. But here's a list that summarises them:
So you'll need more than general liability cover alone to protect your real estate business from all the risks it might face.
Give your insurance another viewing
General liability insurance is a necessity for real estate companies.
Claims can come from any of your clients. Whether they're buyers, sellers, tenants, or landlords. And you never know when you might accidentally cause damage to a client's property.
Claims can cost your business tens of thousands of dollars, so it's worth asking yourself if it's worth the risk.
You can get a quick quote for general liability insurance by clicking here. Or you can speak to a member of our team by calling 978 344 4288.
general liability
general liability insurance
real estate