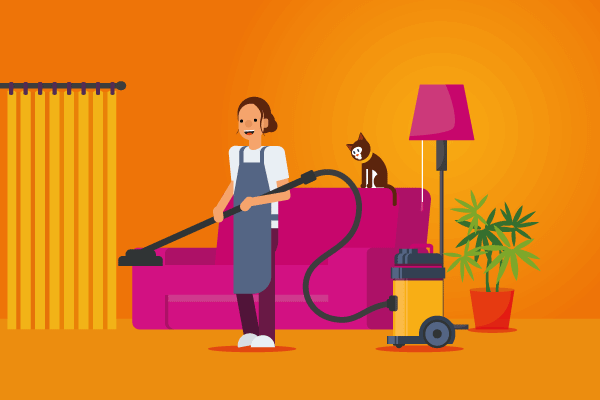 The US cleaning industry is huge – and thriving – with revenue expected to increase by 1.5% to $55.8 billion during 2017. More than 1.8 million people are employed in the sector, from janitorial and commercial cleaning staff at stores, malls, restaurants, schools, and offices, to maid and housekeeping services for homeowners.
With such a wide range of roles and responsibilities within this growing industry, the tasks undertaken in every cleaning job are likely to be different. With different jobs, come different risks that can hurt your business. And mishaps can happen easily.
There is a big difference between breaking a plant pot to completely destroying an antique rug by knocking bleach all over it. The most common liability claims for cleaners and janitorial professionals are slip and fall accidents.
To protect your business from the cost of claims like these, you need cleaners' general liability insurance. Without it, if someone were to sue, it's hard to know if your business could afford to take the financial hit.
Avoiding costly claims
The most common insurance claims in the cleaning industry are:
Slips, trips, and falls
Damage to property, including spills and breakages
Lost keys
While accidents are sometimes unavoidable, there are a number of things that you can do to minimize the risk of a claim being made against your cleaning or janitorial business.
Staff training
Training each employee in safety procedures that prevent damage to a client's property and reduce the risk of equipment breakdowns, injuries, or health risks is the first step in helping reduce the chances of a claim.
While some people assume cleaning jobs don't require much skill, they're wrong. Being well versed in the ins and outs of health and safety on the job is vital. Not just for the safety of the employee, but for people who might come into contact with them.
Make sure all staff follow procedures correctly. This could be anything from using the correct signage to inform others that a floor is wet, to using equipment correctly. And ensuring they are aware of the risks of working with chemicals.
Training should be reviewed frequently and refreshed each time a new task is introduced, or a change is made that affects their role. No matter how minor this may seem.
Just as important is making sure new staff have the correct certification to perform certain tasks, especially for more specialist tasks such as carpet cleaning or restoration.
A company handbook or training guide is a great way of keeping employees informed of what they are expected to adhere to when it comes to health and safety, and in the day-to-day performance of their role.
Assessing and minimizing risk
It may sound obvious, but showing staff how to clean specific items belonging to an individual or a business's property is an obvious first step in minimizing the risk of damage occurring. An even more effective way of doing this is to request that rare, valuable, or fragile items are safely stowed away or relocated by the client before your team begins work.
Identifying risks is important too. If a petite member of staff has to climb onto a chair to reach difficult spots, not only is this dangerous for them, but there is a chance that they could put others at risk too if they fall. Providing staff with the correct equipment to perform their role may help to prevent an accident like this from occurring.
Making sure that equipment is fit for purpose before every use is crucial too. Think about how much of a mess a vacuum could make if it caught on fire! Have all electrical equipment checked out by a specialist on a regular basis. Also, check that the cleaning chemicals are clearly labeled, are used in well-ventilated areas, and are never mixed, as this can result in harmful gases being released, potentially causing serious harm to your employees and your clients.
Documentation
Finally, keeping accurate documentation plays an important part in reducing the risk of a claim being made. A contract should define the services that are to be performed, with a list of tasks to be completed, as well as a schedule, your rates, what equipment is used, and anything else that is relevant, such as agreeing to only use eco-friendly cleaning products, for example. Keeping records of keyholders is also recommended in case of loss or theft.
As well as a contract, completing documentation that confirms which tasks have been carried out, by whom, and when, helps you to identify who (if anyone) is at fault if an accusation is made that results in a claim being raised.
Don't risk getting cleaned out
Download out factsheet to find out how to minimize the risk of claims being made against your janitorial or cleaning business today.
---
As you know, even the most experienced employees and the most robust risk prevention measures you have in place, there will sometimes be circumstances that are beyond your control. With cleaning business insurance in place, you can protect your business from financial disruption.
advice
cleaning and janitorial insurance
general liability insurance