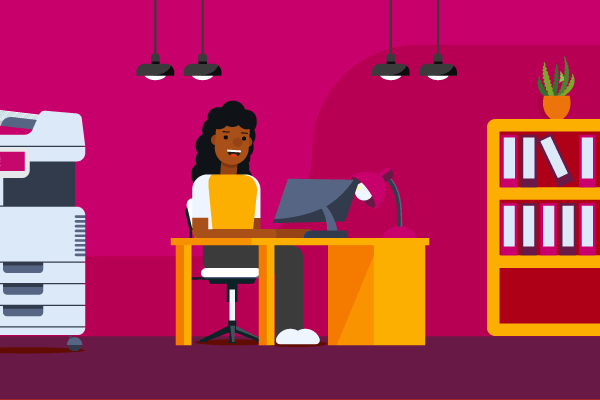 Do sole proprietors need workers' compensation insurance? If you have any employees, the answer's 'yes'.

But there are a couple of other reasons you might want a workers' comp policy in place. We'll come to those. First, let's talk about what's legally required.
State requirements for sole proprietors workers' compensation

You could be a freelancer, working from home, or an independent contractor working on-site. If you receive a Form 1099 from the people who pay you, you're likely a sole proprietor.

Sole proprietors are typically thought of as lone wolves. However, a sole proprietorship is just a name for the type of business structure. It doesn't mean you don't employ anyone.

And if you do – even if it's just one person — you need workers' comp insurance.
Sole proprietor with one or more employees

In almost every state, for sole proprietors with employees, workers' comp insurance is a legal requirement. But as the exact rules vary from state to state and penalties can be severe, it's best to check with your state's Department of Labor.

What's more, if you employ someone who works for you in a different state, you need to comply with that state's requirements, too.
Sole proprietor with no employees

If you really are a lone wolf and no-one works for you, the rules for sole proprietors are the same in almost every state. You don't need workers' comp insurance. (Although, to be on the safe side, check with your state's Department of Labor.)

But you might want to think about getting workers' comp coverage anyway. Because a workers' comp policy can pay your medical bills and lost income if you're injured in the workplace. It means your health insurance won't have to cover accidents on the job.

Without it, you may struggle with your health insurance provider over who pays for what parts of your medical care – from ambulance rides to bandages.
What is workers' compensation insurance and what does it cover?

Workers' compensation laws protect employees. If they're hurt or become ill as a result of working for you, they're entitled to benefits. Like their medical bills paid and lost earnings replaced. And if they sue, there'll be legal expenses to pay, too.
If you don't have a workers' comp policy you'll have to foot the bill for these yourself. And with the average cost of workplace injury claims costing around $40,000 according to the NCCI, it makes it a policy worth having.
If an employee gets hurt, or falls ill, while working for you, workers' compensation insurance pays for medical bills, lost wages and legal expenses. What's more, no matter who's at fault, it can pay the costs of a lawsuit if your employee takes legal action.

And if the worst happens, it provides death benefits for funeral expenses and support for the employee's family.

Typically, a workers' compensation policy covers:

• Work site accidents (including injury, or loss of limbs)
• Injuries caused by repetitive motion (like carpal tunnel damage)
• Medical treatment
• Death (and related costs)
• Lost wages
• Injured employee lawsuits
Other reasons why sole proprietorships need workers' comp insurance
High-risk industry

If you work in a high-risk industry, like construction, you may find you need workers comp to get a license or permit to work. Again, check the rules with your state's Department of Labor.
Independent contractors

If you hire independent contractors to work for you – even if it's only part-time—you'll probably need it too. Bear in mind that while Texas and New Jersey don't require you to have workers' comp, as an employer, you're responsible for work-related injuries. So you may want to buy a policy anyway.
Clients may require you to have it

As a sole proprietor with no employees, legally you're exempt from having a workers' comp policy. However, it's not illegal for clients to require independent contractors from having a policy. Even if you work entirely on your own.

Basically, it's the company trying to protect itself. In case you get ill or injured while you're working for them and turn around and try to claim workers' comp benefits. But it's still a bit of a gray area. So again, check your state's requirements.
How much does workers' compensation insurance cost?

The cost of a workers' comp policy varies. It depends on things like the industry you're in and the number of workplace accident's you've had in the past.

However, if you've got safety precautions in place and a drug-free workforce, you could get a discounted rate.

Read more on the types of business insurance sole proprietors need on our website.

And for more on workers' comp insurance, check out our blog post, what is workers' compensation insurance and why do I need it.
But if you're not sure if you need workers' comp give us a call. We're always happy to help.
business insurance
independent contractors
sole proprietorships