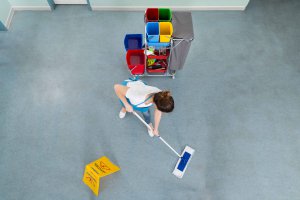 Whether your business deals with domestic cleaning, commercial cleaning, or both, the tasks that you and your employees carry out day to day will come with risks. If you've not experienced a mishap yet, you are among the lucky few, and some mistakes can be costly, especially if you don't have general liability insurance to cover you.
On average, general liability insurance for a cleaning or janitorial business costs $42 per month. In most circumstances, claims that relate to client injuries and client property damage are covered by a general liability policy.
While some business owners may think general liability insurance is not a necessity, when you consider that the average payout for a slip or fall claim is $20,000, whereas the cost to defend this type of claim is $50,000, it's clear that it is. Slips, trips and falls make up 10% of all small business claims, and with wet floors being part and parcel of the cleaning industry, the risk of accidents of this nature occurring increases. If your client was to slip on a wet floor, could your business afford to take the financial hit if it didn't have general liability insurance in place?
It's no surprise that slips, trips, and falls are the most common type of claim in the cleaning industry, but there is also an upward trend for people making fraudulent claims against businesses due to the high average payout. According to the National Floor Safety Institute, the average liability award for injury to a customer or other third party runs from $60,000 to $100,000 per claim. These scams are reported to cost businesses $70 billion annually – if you are not insured, could your business afford to defend itself?
When you are contracted to clean a premises, if you think that an accident will be covered by the business or property owners insurance, think again. While you are right in assuming that the person who owns or leases the premises is targeted in the lawsuit to recover damages, it's also common for legal teams to name all defendants to increase the amount of compensation their client receives – this means your cleaning firm is likely to be held accountable, too.
Of course, it's not just bodily injuries that general liability insurance covers. Damage to a client's property is also a common reason for claims. Imagine that one of your employees drops a bottle of bleach onto a rug and after informing the customer, they demand that a similar rug is provided in its place. The rugs that you propose as replacements are all rejected by the client, who wants a $2,000 rug, despite the fact that the ruined rug was old and worn, and originally purchased for around $250.
Without general liability insurance, you could end up in a long and drawn out battle with the client that is costly financially, not to mention being time intensive, which can be incredibly damaging to a small business. An insurer will take care of the issue and cover your legal costs, and the likelihood is that the disgruntled customer will be compensated with the true amount for a like for like replacement.
Ultimately, it's not worth risking your business by not having a general liability insurance policy in place. InsuranceBee can tailor policies to meet your business needs, so whether you are a small housekeeping company cleaning a couple of apartments, or have janitorial contracts with all of the high schools in your state, we can help find you the best coverage at the best price.