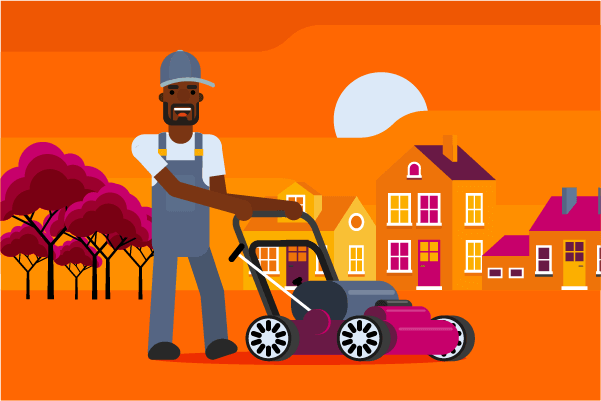 Having the right lawn mowing business insurance means you can work without worrying about the 'what ifs'. So how do you make sure you're properly protected? Here are six things to bear in mind when choosing coverage.
1. Assess your insurance needs and risk
To decide which policies you need, first, you want to work out the risks your business faces.
Accidental damage to other people and their property
As a landscaper or lawn care contractor, much of your time is spent working at your clients' properties. What sort of accidents could happen while you're working? And what are the possible consequences of those kinds of accidents?
What if you accidentally mow over a client's irrigation system and damage it? You could be looking at costly repairs or even reinstallation. And if you and your client can't agree on who should pay, it could even lead to a lawsuit.
What if a client trips over one of your landscaping tools while you're working in their yard? You could be facing medical bills and legal costs if the claim goes to court. Would you be able to meet those costs yourself?
A general liability policy can protect your business from the cost of bodily injury and property damage claims. It can pay for medical bills, repairs, or replacement. And if the case goes to court, it can cover your legal expenses and compensation payments, too.
Employee injury and discrimination
Does anyone work for you? In most states, even if you only have one employee, you're required to have worker's compensation insurance. It takes care of the costs of workplace injury claims, including medical bills and legal expenses.
State requirements vary so it's best to check yours.
You might also want to think about employment practices liability insurance. It protects you from the cost of claims for unfair dismissal, sexual harassment, discrimination and more.
Cybercrime
You might think as a lawn care contractor you don't need cyber liability insurance. But if you have a website, use email, or pay invoices by wire transfer, you're a target for hackers. And scamming small businesses by hacking email accounts and diverting invoice payments is a common tactic nowadays.
Cyber liability insurance can protect your business. You'll get the help and technical support to deal with an attack. And the cash to recover from one.
Damage or loss to your lawn mowing business equipment
What about your equipment? The tools of your trade are expensive. And it'll be pretty tricky to work without them. If your lawn care equipment gets lost, or stolen, could you afford to replace it quickly?
To protect your tools on-site, you can add business personal property cover to your general liability policy.
2. List all the lawn mowing and landscaping services you offer
It's really important you think carefully about all the services you offer. If you don't have all your services listed on your policy, you could find you're not covered in the event of a claim.
Insurers typically classify mowing, blowing, weeding and edging as 'basic lawn care'. So if that's all your company offers, that's how you'll be classified for insurance purposes. But if you also offer services like planting, mulching, irrigation and trimming of trees from ground level, that comes under 'landscaping'.
What's more, while snow removal, masonry, excavation and land grading all come under 'landscaping', insurers rate them separately. So, if you provide these services as part of your landscaping business, you need to mention them when you're buying a policy.
Do you use pesticides and fertilizers as part of your lawn care service? As long as they're products you can buy over-the-counter, you'll be covered. Most insurance providers won't cover you if you use stronger products.
3. Don't cut corners on your lawn care business coverage
The best thing you can do to protect your business is to think, 'What's the worst that could happen?' Then make sure you're prepared for it, by having the right policies in place and the sufficient level of cover.
You want to prioritize quality of coverage over cost. Tempting as it might be to go for a cheaper policy, like most things in life, you get what you pay for.
While A-rated insurance might cost you a bit more, it'll likely offer more comprehensive coverage. And most offer payment installment plans to help you spread the cost.
A cheaper premium might mean there are gaps in your cover. And, in the event of a claim, every penny counts.
It's also worth checking out reviews of a cheaper insurance provider. You may find their terms are inconsistent. Or they're slow to pay out if there's a claim. Ideally you want a fast, painless claims process.
4. Pick a deductible you can afford
A deductible is the amount you have to contribute to the cost of a claim. Most policies come with one. Usually, the higher the deductible you choose, the lower your policy premium will be.
Just make sure the figure you pick is one you can actually afford to pay if there's a claim.
5. Read the small print
Before you sign anything, read through your policy carefully. Make sure you understand what it covers and what it doesn't. You don't want a nasty surprise further down the line when you try to make a claim only to find it's not covered.
And don't think because you've read one policy, you've read them all. Every insurer has different limits, and exclusions (things they don't cover).
Yep. Insurance policies can be a tricky read. There's often a lot of jargon to wade through. You might find our blog post on answers to common insurance questions helpful. But if you're not sure what something means, it's always better to ask.
Use an experienced insurance broker
Talk to an insurance broker who understands the lawn care and landscaping industry. That way you won't end up paying for extra coverage you don't need, or with any gaps in your cover.
Not sure of the difference between an insurance carrier, agent and broker? Our blog post might help. But basically, an insurance broker works for you, the customer. That means they have your best interests at heart.
They compare insurance policies in the marketplace and choose the one that best suits the needs of your particular lawn mowing business. That's because they have in-depth knowledge about which insurers provide the best coverage for specific risks.
Using a broker means that when it comes to choosing your lawn mowing business insurance, you don't have to do all the leg-work. They do it for you.
InsuranceBee makes buying business insurance easy. We speak your language, not jargon. And we understand that every lawn care business is unique. Which means its coverage needs are, too.
You can get a quote and buy your lawn care business insurance online, or speak to one of our licensed advisors. Whichever is easiest for you.
cyber liability insurance
general liability insurance
landscaping and lawncare