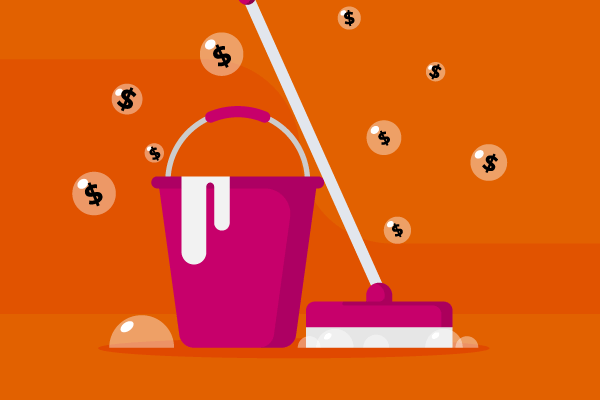 Whether you're in the domestic, or commercial, cleaning industry – or both – the tasks you and your staff do each day come with risks.
If you haven't had a mishap yet, you're one of the lucky few.
Because without general liability insurance for cleaners to cover you, claims can be costly.
Counting the cost of a claim
Your legal defense will set you back around $50,000. And then there's compensation, if you're liable. The average payout for a slip or fall claim is $20,000.
General liability insurance for a cleaning or janitorial business, on the other hand, starts at only $42 a month. It's the coverage you need for claims made against your business for bodily injury to third parties.
And will take care of your legal fees, medical bills and compensation, if you're at fault.
Slips, trips, and falls make up 10% of all small business claims. You can do everything you can to reduce the risk. But wet floors are unavoidable in the cleaning industry. Which means the risk there'll be an accident is high.
Of course, there are lots of safety precautions you can take. The National Floor Safety Institute has lots of advice. Check out their factsheet.
But however careful you are, accidents do happen. If you don't have general liability insurance and your client slips on a freshly-mopped floor, could your business afford to take the financial hit?
Trouble is because the payouts are so large, more and more people are making fraudulent claims.
General liability insurance can hire you an attorney and pay for your defense even if the claim turns out to be groundless. Which makes it insurance worth having when fraudulent claims are reported to cost businesses $70 billion annually.
Aren't cleaners covered by the business owners' insurance?
You might think that if you're contracted to clean a premises, an accident's covered by the business or property owners' insurance. Unfortunately, you'd be wrong.
You're right to assume the person who owns or leases the building will be the one targeted in a lawsuit to recover damages. But to try and increase the amount of compensation their client will get, legal teams often name all defendants. This means your cleaning firm will be held to account, too.
What else does general liability insurance cover?
Of course, it's not just bodily injuries that general liability insurance covers. Damage to a client's property is also a common reason for claims.
Imagine one of your employees drops a bottle of bleach onto a rug. Naturally, you tell the customer. And they demand you replace it with a similar rug.
Despite the fact that the ruined rug was old, worn, and cost around $250, your client rejects every rug you suggest as a replacement. They want one that costs over $2,000.
Without general liability insurance, you could end up in a long, drawn-out battle with the client. Which won't just cost you money, it'll take up your time. And that's time better spent running your business.
With general liability insurance, you don't have to worry about any of this. Your insurer will handle the dispute and can cover your legal fees. And you can get back to business.
InsuranceBee can tailor policies to meet your business needs. So whether you've got a small, housekeeping firm cleaning a couple of apartments, or have janitorial contracts with all the high schools in your state, we can help you find the best coverage at the best price.
cleaning and janitorial insurance
general liability insurance